Athletics: Special Events final-William beats junior shot put record, establishes junior hammer throw best
18-February-2013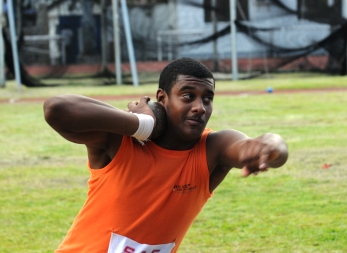 Competing in the junior category, William improved Ronny Bristol's shot put record and established a hammer best with the 6kg weight.
After failing his first trial and registering 13.67m and 13.72m in his second and third tries, William became the first ever junior Seychellois athlete to achieve a throw beyond the 14.19m mark with the 6kg weight with his 14.61 effort in his fourth attempt.
William then barely moved 100 metres from the shot put throw pit to the hammer cage where he established a hammer junior record with the 6kg weight under the watchful eyes of his Cuban coach Alexander Rodriguez.
After opening with his first throw measured at 47.85m, William, 17, registered 52.49m in his second attempt and finally 55.95m in his fifth for a new junior hammer best.
"I'm feeling great. I wasn't expecting the shot put record, but it came as a result of my training. I've been training every day since the start of the year.
"As for the hammer record, because it's the first time someone throws one of the 6kg weight, my performance would have automatcially gone down as a record. But I'm happy I improved my performance each time I went into the cage," William told Sports Nation.
Voted third overall behind Young Male Athlete of the Year Adam Viktora in the Sports Awards of the Year crowning ceremony, William set a new junior and senior hammer national record with the 7.26kg weight with a toss measuring 45.36m the Special Events One competition on January 26.
William's previous junior and senior records stood at 40.45m and he set it on August 13, 2011 at the same Stad Popiler during the eighth Indian Ocean Island Games Seychelles hosted.
The following are the other winners of the different events of the Special Events final competition: Mohamed Harriba (men's 60m hurdles – 9.26 seconds), Travis Boniface (men's 600m – 1 minute 30.39 seconds), Julia Hollanda (women's 60m – 8.83 seconds, and 150m – 21.08 seconds), Danny D'Souza (men's 60m – 7.13 seconds), Estelle Lepathy (women's 300m – 47.50 seconds), Travis Hardy (men's 300m – 36.5 seconds, hand timing), Marie-Noella Larue (women's 2,000m – 7 minutes 36.74 seconds), Keddy Moustache (men's 2,000m – 6 minutes 19.1 seconds, hand timing), Jean-Yves Esparon (men's 150m – 16.75 seconds), Lissa Labiche (women's high jump – 1.80m), Jude Sidonie (men's high jump – 1.95m, and long jump – 6.70m), Athina Freminot (women's long jump – 4.34m), Marie-Helen Rose (women's shot put – 10.86m), Janet Boniface (women's triple jump – 10.92m) and Alvin Kilindo (men's triple jump – 13.77m).
Compared to past years, the Seychelles Athletics Federation (SAF) ran just two Special Events competitions this time. This is because it had to change one of its other competitions which clashed with the staging of this year's third Carnaval International de Victoria.
Local athletes compete in shorter distances in the Special Events competition, presenting them with the opportunity to once again showcase their talents and fine-tune their techniques before they line up for normal events that feature on the SAF calendar.
G. G.