MFA hosts annual cocktail for diplomats-'Seychelles friend to all, enemy to none'
23-February-2013
Lima Calbio, the well-known entertainer from Trinidad & Tobago, who has been here for all three Carnaval International de Victoria, turned up to sing some favourites such as 'Sun shiny day', backed by the band 'Collective Soul' and got some ambassadors dancing the night away, by which time the rain that had threatened to spoil the party had dissipated.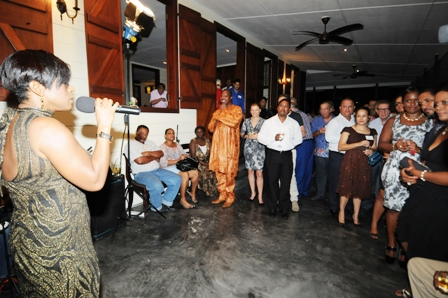 An overjoyed Foreign Affairs Minister Jean-Paul Adam commented "C'est la chaleur des îles".
Earlier, he had summed up our country's "pro-active diplomacy", as one whereby Seychelles considers itself "a friend to all, an enemy to none".
He said that since our economic reforms of 2008, we have become engaged in a process to make our small island nation more resilient, noting that when piracy hit us at the height of the global economic crisis, it could not have come at a worse time.
"But, we have faced up to these challenges and worked with our friends and partners for global solutions. We believe that we have a lot more that we can offer to the world," said Minister Adam.
The head of Seychelles diplomacy said it is essential that we seek shared solutions where we can to these challenges as they affect us all. He recalled that within this context, Seychelles remains fully committed to the role of the United Nations and this is why we are seeking a non-permanent seat on the Security Council.
Mr Adam said in relation to its bid, Seychelles does not see its size as a weakness – but rather a source of strength.
He noted that more than most countries, our development agenda is one which is linked to the health of our planet.
"Our size compels us to bring multilateral solutions to national problems."
Mr Adam recalled that in his state-of-the-nation address, President James Michel has reminded us that we cannot wait for global problems to be at our doorstep. We must – despite our size, be part of the global solution.
On piracy, he said Seychelles has shown that it can have a meaningful impact. The models for prosecuting pirates and successfully transferring them back to Somalia have been possible thanks to our own determination in cooperation with so many of our partners, many represented at the diplomatic gathering.
"We have turned the tide against impunity of criminality in our ocean, but we cannot afford to be complacent," he added.
Mr Adam said that piracy has shown us that we need stronger institutions to ensure security in our region.
He announced that in collaboration with the British government and other partners, Seychelles will shortly be inaugurating the new Regional Anti-Piracy Prosecution and Intelligence Centre (Rappic). This centre will be a new reference point for prosecution of pirates, but also for dealing with all forms of criminality on the high seas.
Mr Adam switched to French in line with Seychelles' policy of trilingualism and said:
« Ambitieuse et pragmatique, la diplomatie seychelloise, a été, tout au long de l'année écoulée, au cœur de l'action pour la mise en œuvre des priorités concernant le développement du pays. La consolidation, le renforcement et la diversification des relations d'amitié et de coopération entre les pays de l'Océan Indien, ont été en première ligne de la politique étrangère du pays. »
M. Adam a rappelé que la présidence seychelloise à la Commission de l'Océan Indien (COI), au cours de l'année écoulée, a été, au dire même de nos frères de l'Océan Indien, initiatrice de nouveaux projets et de nouveaux rapports que nous avons voulu plus étroits et plus féconds.
« Nous avons mené cette présidence à travers la volonté de faire de la COI un levier de développement de nos diverses ressources et une organisation au sein de laquelle la complémentarité, l'esprit de solidarité et de franche concertation, se sont placés au-dessus de toutes les autres considérations. »
M. Adam a signalé que le Président James Michel vient encore de rappeler dans son discours sur l'état de la nation mardi, à quel point les Seychelles misent sur le développement de l'économie bleue. Parce que la mer est avant tout le trait d'union qui nous lie au reste du monde.
« C'est pourquoi, nous n'aurons de cesse d'encourager et de mobiliser toutes les initiatives capable de nous conduire à la création d'une plateforme régionale afin de réfléchir sur les bases d'une étroite collaboration qui nous permettra d'exploiter au profit de nos populations l'énorme potentiel de ce secteur. »
Speaking as Dean of the diplomatic corps here, Indian high commissioner Thanglura Darlong, who has been accredited here since August 2011, hailed some of Seychelles' achievements. He hailed the third Carnaval International de Victoria in which India took part with a cultural troupe from Goa and a naval contingent as "highly entertaining".
Mr Darlong said it was a fantastic occasion which saw cultural groups from various parts of the world converge on Seychelles.
He also mentioned the sufferings caused by the recent tropical storm, but noted that the Seychellois rose to the occasion and normalcy was restored as the Seychelles government provided great leadership.
The Indian high commissioner also praised Seychelles' diplomatic initiatives to resolve the constitutional crisis in neighbouring Madagascar which has yielded good results.