Team trained to assess damage, loss and needs
25-February-2013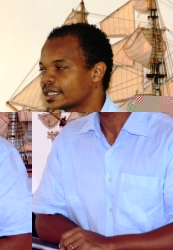 Members of the team listening to a presentation by forecaster Vincent Amelie from the Seychelles Meteorological Services

It was jointly organised by the Ministry of Finance, Trade and Industry, the Divisions of Risks and Disaster Management and the World Bank.
They were coached on conceptual framework, technical aspects and use of the damage and loss assessment methods, in a bid to establish a cadre of professionals who can do post-disaster assessment.
The training showed them the links between the economic and the social sectors in a way that can also help to prepare contingency plans to minimise negative impacts when disasters strike.
The method they learned gives a close estimate of damage to property and losses to the economy and summarises total macro-economic impacts.
"The impacts on the macro-economic performance of the country, such as impacts on GDP, economic growth, or balance of payments, are based on countrywide baseline information of the national accounts," said the organisers, who noted the tool they were shown helps assess impacts on poverty and individual households, looking at employment opportunities, income reduction, and the number of people below the poverty line.
The method estimates damage as the replacement value of totally or partially destroyed physical assets that must be included in the reconstruction programme, losses in the flows of the economy that arise from the temporary absence of the damaged assets.
It also helps gauge resulting impact on post-disaster economic performance, with special reference to economic growth, the fiscal position and the balance of payments.
It delves into aspects like the productive sector, including agriculture, tourism, commerce and industries, housing, transportation, power, communication, sanitation and water supply as well as public buildings, education, health and other issues like the environment.
When launching the workshop, the principal secretary for economic policy and planning Bertrand Belle thanked the World Bank for its input.
He said following the recent heavy rains many of the trainees went to the districts and helped soften the impact of the disaster on the population.
"Heaps of data were collected, and several reports written, giving us this opportunity to compile all the data into a format which is uniformly accepted by the international donor community," he said.
"The devil is in the details, and this is what this workshop is about.
How do we transform the data we have now to information in a format easily identifiable by donor communities, and for use in the determination of a plan of recovery.
The recovery cannot all be done in one year, and it will need to be prioritised into appropriately-sized chunks which we can afford to implement gradually," he said.
He told the trainees the workshop would empower them "so that in this world of ever-changing climates and increasing occurences of extreme weather, the next time we are faced with similar conditions we can write this report on our own".