Barclays brings facilities closer to clients' homes
25-February-2013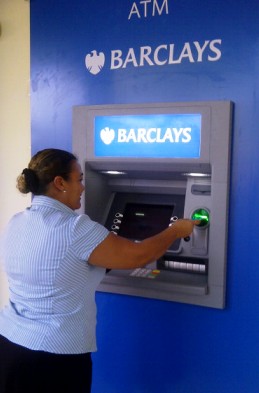 The machine, located at Sekaar's building, was launched on February 15.
"We are always on the lookout for new and innovative solutions to augment and continuously improve our banking facilities so as to better serve our customers," says Mandeep Chaudhary, the bank's retail director.
According to Mr Chaudhary the initial response has been good.
"We anticipate that usage will increase further with time and when more customers get to know about this new ATM," he says.
Barclays has rolled out 15 ATMs in total across Mahé, Praslin and La Digue and Mr Chaudhary says there are plans to put up more such facilities in other locations.

Besides ATMs the bank is also looking at providing other solutions to its customers to bring banking closer to them.

"We endeavour to keep providing the best and affordable banking services to our customers. In fact Barclays has been the first bank to remove all charges on ATMs for our customers.
From February 1, 2013, Barclays customers can use any ATM in Seychelles without any charges," says Mr Chaudhary.
"In addition, our network of ATMs offer our customers a number of facilities that mean less time queuing or visits to a branch.
They include mini statements, bill payment facilities to four service providers -- Airtel, PUC, Intelvision and Cable & Wireless, transfers between accounts, ability to deposit money over the ATM, to name a few.
This is aligned to our vision of being at the forefront of technology, and putting our customers at the centre of everything we do," adds Mr Chaudhary.