Football-St Michel win fourth consecutive President's Cup
25-February-2013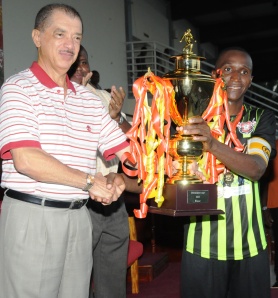 President James Michel, who is the Seychelles Football Federation (SFF) patron, was present to watch this season-opener along with Designated Minister Vincent Meriton who is also the Minister for Social Affairs, Community Development and Sports; community development and sports principal secretary Denis Rose; National Sports Council chief executive Alain Volcère as well as SFF chairman Elvis Chetty and members of his executive committee.
This match began with the presentation of the two sets of players to Minister Meriton and SFF boss Chetty and there were also a group of children from the President's Village and the International School who were special guests at this match.
As for the match, St Michel had made some changes after last week's 1-4 defeat to Tusker FC in the first leg of the preliminary round of the Caf Champions League.
Goalkeeper Nelson Sopha was out suspended while Alex Nibourette was injured as well as Wilnes Brutus. Nelson Laurence was relegated to the bench to allow Malagasy Hassan Aly a more central role in midfield against his former club.
St Michel started brightly against Anse Reunion who badly missed suspended Malagasy Hugo Sezou in attack but they had the first real chance in the 12th minute from Roderick Rose's long ball to Norvil Gaspard who got the better of Malagasy Jimmy Radafison but his downward header flew wide.
Two minutes later, St Michel's goalkeeper Gino Melanie was penalised for handling the ball outside the penalty area as he rushed out to deny Nickerro Marie from Yelvanny Rose's knock down header.
Roderick Rose rolled the resulting free-kick into Yelvanny Rose's path but his fierce shot produced a great stop by Melanie who redeemed himself.
St Michel raised the tempo and in the 17th minute, Aly burst clear on the right to pick out Leeroy Corallie at the near post but he shot in the side-netting under pressure from Armantal Ernesta.
Corallie again failed to hit the target in the 22nd minute from Gervais Waye-Hive's near post corner as his glancing header sailed over the crossbar.
Two minutes later, St Michel's debutant Daniel Maillet received a glorious pass from Aly who split open Anse Reunion's defence. Maillet sprung the offside trap but he tried to square to Corallie with his weaker right foot in a one-on-one situation with goalkeeper Ricky Rose who easily cut out the pass.
St Michel were putting their opponents' rearguard under intense pressure and in the 26th minute they produced a good move as they transferred the ball from right to left with Aly in the thick of things to set up Waye-Hive. The St Michel midfielder tried to curl the ball low into the far corner but Armantal Ernesta cleared the danger.
Anse Reunion were being overrun in midfield and coach Juel Ah-Kong pulled off Pierre-Luigi Nibourette in the 38th minute as he could not keep pace with his former colleague Aly and brought in Julius Adrienne with Roderick dropping into a more central midfield role as they tried to stop the St Michel domination.
St Michel though were still dangerous and a minute later Jean Del'Or Tsaralaza released Aly but he could not hit the target as goalkeeper Rose rushed out to narrow the angle.
In the 42nd minute, there was a good combination play involving Del'Or, Aly and Corallie before Aly played a reverse pass to send Corallie free but he shot weakly at goalkeeper Rose who saved his shot.
On the stroke of half-time, Anse Reunion had a big shout for a penalty from Julius Adrienne's corner which Yelvanny Rose miscued and St Michel defender Allen Larue handled as he attempted to clear the danger but referee Alistair Barra was not convinced.
St Michel picked up from where they had left off in the second half and in the 53rd minute Del'Or threaded a pass to Corallie who fired across goal from a good scoring position.
The reigning Barclays league division one champions made two changes as Francis Nourrice came on for Corallie and Andy Mougal replaced Daniel Maillet in the 66th minute.
Mougal's substitution had an immediate impact as he raced straight into action as St Michel's Waye-Hive prepared to float a free-kick. Mougal's movement behind the wall distracted Anse Reunion's defence allowing Radafison to run unmarked onto the hanging free-kick before heading home to open the score at 1-0 much to the delight of their fans among a good crowd present on Saturday.
St Michel nearly added a second a minute later from Del'Or's deep cross which was met by Mougal's diving header but goalkeeper Rose parried the ball into corner.
In the 71st minute, St Michel again went close as the irrepressible Aly exchanged passes with Nourrice before filtering a through-ball to allow the former Foresters striker to bore on goal but he just could not slip the ball under the outrushing goalkeeper Rose who blocked the ball.
St Michel though duly extended their lead in the 76th minute with a swift counter-attack as Anse Reunion's corner was cleared to Waye-Hive. He carried the ball from his own penalty area to Anse Reunion's half before spreading it out to Del'Or whose inch-perfect cross was met by the unmarked Aly who had sneaked in at the far post to bury his header past goalkeeper Rose to open his St Michel account and add salt to his former team's wound as he made it 2-0.
Anse Reunion had a gilt-edge chance to reduce the deficit in the 78th minute from Allen Larue's stray pass which captain Don Anacoura failed to collect. Gaspard pounced onto it to feed Yelvanny Rose but his long range effort lacked the sting to trouble goalkeeper Melanie as St Michel made it a fourth consecutive President's Cup, bringing their total to 11 victories.
St Michel's manager Andrew Jean-Louis told Sports Nation his team were deserved winners.
"We dominated this match especially in the first half where we created many chances. However, we expected a high tempo encounter as both teams are well ahead in their preparation and competing on the African continent. As for this victory, we hope it will serve as a big morale-booster in our next test against Tusker FC next weekend," manager Jean-Louis said.
As for coach Ah-Kong, he said his team tried to adjust their play to match St Michel but it did not work out too well though he claimed St Michel's opening goal was offside.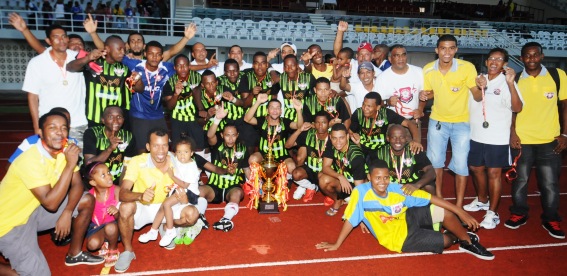 The cups and medals were presented to the two teams by President Michel, Minister Meriton and SFF chairman Chetty.
R. J-L.