Up-Close … with Naddy Zialor, differently-abled youth-'I want to see differently-abled people get their rightful place in society!'
26-February-2013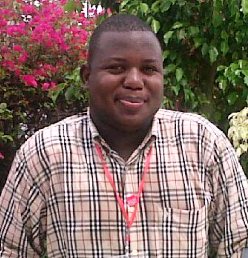 At only 24 years old, this young man from Barbarons, Mahé, has shown me what real determination to achieve is. His motto is to never say that he cannot, but rather that he will at least try first.
Growing up physically-challenged
Born at Victoria hospital, Naddy grew up with a certain physical disability, and uses crutches to move around, but had the chance to follow mainstream education.
"I was schooled at Grand Anse Mahé primary, and then went on to Anse Boileau secondary. I also had the chance to follow post-secondary education at the former National Institute of Education, but for reasons beyond my control, did not complete my last course," he said.
"I find that accessibility to infrastructure was and still is a big issue in the fight for physically-challenged people like me to be able to fit in with what others might consider as 'normal'. Today we still see many schools with stairs and lacking ramps, for example. So if we had a wheelchair user who was able to follow mainstream education at state schools, this would definitely be a barrier to that person achieving his/her goals. But I definitely have hope that things will change in the future."
Today Naddy works at the Le Méridien Barbarons hotel as a guest service agent and he says that his workplace is also a second home to him, since he spends most of his time there.
"I've always given my best as an employee without expecting anything in return, and being awarded best worker was a real encouragement to me, and for this I thank all my colleagues for accepting me as I am and for making me feel like a member of the Le Méridien family," he says.
Disabled vs differently-abled
I was in the United Kingdom several years ago, and while roaming around the town of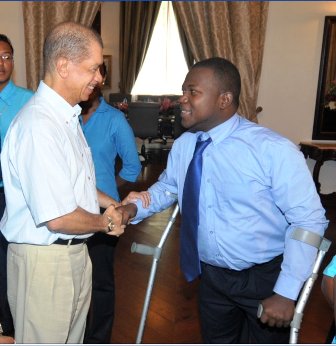 Nottingham, I came across the term 'differently-abled', which was being used for people who in Seychelles we would think of as disabled.
According to a little on-line research, the term 'differently-abled'was coined by the US Democratic National Committee as a more acceptable term than handicapped (or, in the UK, disabled).
The term disabled does not necessarily apply to this motivated and hardworking young man, as quite contrarily, he is very able, as in differently-abled.
Naddy agrees with me that the word "disabled" should be replaced by the much more appropriate term "differently-abled".
"A former Minister for Health, Marie-Pierre Lloyd, always used the term 'differently-abled', which I appreciated very much. If we adopt this term in Seychelles, then a lot of stigma would be removed and this would be an achievement in the rights for physically-challenged people," he said.

A fight for their rights
Naddy is a member of the National Council for the Disabled and has twice represented Seychelles on different overseas missions.
"Having travelled overseas has given me an idea of where we are in Seychelles in terms of what the country has for physically-challenged people, where we have come from and where we need to go from here," he says.
Several years ago Seychelles ratified the convention for people living with disabilities, and Naddy says he thinks there is still a lot to be done so that the nation can be well educated on the convention.

"The convention is key to making physically-challenged people see their true place in society, and be fully included in public, political life, education, accessibility and many more," he says.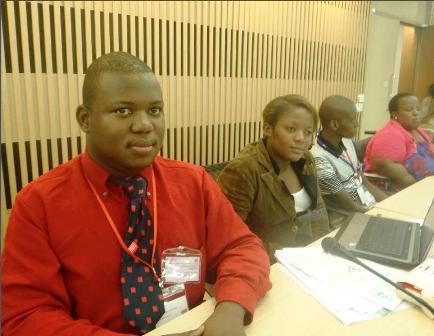 "If we take the time to just assess the situation, one would see that there are many barriers for people like me to reach where we really want to. A simple example is transportation. Many countries have public transportation that caters for physically-challenged people, but in Seychelles, this is not the case, and although the public transport corporation recently celebrated a milestone in their existence, this is one issue we feel it should look into so that the next time they can have more reasons to celebrate their next milestone."

Chilling out
So what does this constantly-busy young man do when he has some spare time on his hands?
"Well, I don't think I have a hobby per se," he says laughing.
"I spend my days off here at home, and I enjoy having a cold beer or two like everyone else, I guess. I also love to blast my collection of Creole songs -- local artists David Philoe, Joseph Louise are my favourites. I also like country and western songs," he says.
"I also devote my time to organising various activities for other differently-abled people, and as far as I know, such initiatives, of course done in collaboration with various partners, have made a real difference in the lives of my friends."
One has to only walk by his house on his days off to hear Naddy playing his favourite Creole songs at full volume, and singing along even louder!
"I love those songs because they sing about every life situations, and I can relate a lot to them," he says.
Future plans
Naddy says he has no time to be idle. In the near future he plans to launch an organisation called Young Voices, which will campaign for the rights and better conditions, accessibility and more for physically-challenged people in Seychelles.
"Our organisation will have young people stand up for themselves and be their own voices, as opposed to having other people speak for them," he says.
"We want to be the ones to create the difference that we want to see in our lives, and Young Voices will be the platform to achieve just that."
He adds that he is also very much interested in politics and in the future would not mind having a political responsibility.
"In my opinion, I have never seen my lack of certain abilities as something that will stop me from getting to where I want to reach in life," he says.
"I want to help young people in Seychelles make their voices and their aspirations heard, and it is by working together today, that we can be ready for our responsibilities for tomorrow. I also want to see differently-abled people get their rightful place in society, and hopefully by getting a political role in the future, I can do more to make this happen."
by Ivan Hollanda