Athletics: Sixth Seychelles Eco-Friendly Marathon-German pair stretches personal marathon records
27-February-2013
Mrs Eichner, who presently holds the world record for having taken part in the most number of marathons by any woman, crossed the finishing line in the 10th position after 6 hours 22 minutes 28 seconds (6h22:28) of running.
Sunday's marathon was the 1,751st completed by 72-year-old Eichner. She was in fact the last female marathon runner home in the race won by South African Monica Vorster who retained her title won for the first time in 2012 under the name Monica Neuling. Monica Vorster, whose husband Greg Vorster took part in the half-marathon and finished 33rd in 2h44:48, stopped the clock at 3h33:44 in the marathon on Sunday to improve her previous time of 3h36:41 of 2012 by 2:57. (Our previous articles gave the impression that this year's race was won by a different person as we did not know that she had got married).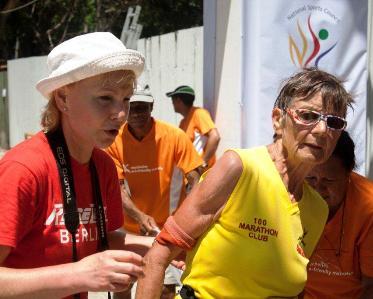 Over the last 32 years, Mrs Eichner has taken part in marathons across at least 40 countries. Of all the marathons she has taken part in, 700 were ultra-marathons. Usually, the total distance of a marathon stretches up to 42.195 km, while ultra-marathons are those that exceed this distance.
No Seychellois took part in the female marathon race this year.
As for 71-year-old Lutz Sproessig, he took 6h32:47 to finish 25th out of 28 in the men's race won by Seychellois Simon Labiche in a time of 3h02:02 – his worst result since the beginning of the Seychelles Eco-friendly marathon.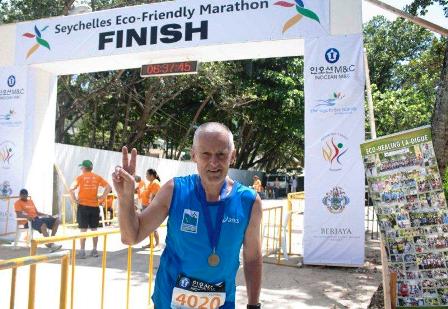 Labiche, a former soldier and who missed last year's race won by fellow Seychellois James Barra in 3h06:49, triumphed in the first four marathons clocking 2h41:25 (in 2008), 2h37:38 (in 2009), 2h44:09 (in 2010) and 2h46:3 (2011).
Seychellois Simone Jaffa has won the women's energy-sapping marathon race the highest number of times – three consecutive years – 2009 (3h30:19), 2010 (3h37:31) and 2011 (3h39:10).
After finishing as runner-up last year in 3h38:29, she ran the half-marathon this time and won in 1h52:11.
Other than the marathon, there were the half-marathon (21.0975km) running, 10km running, 10km walking and 5.5km running.
The competitors received their prizes during a gala evening at the Berjaya Beau Vallon Bay hotel during which a South Korean dance group performed.
Meanwhile, the organisers have already made known the date for the seventh marathon. It will take place on February 23, 2014.
Speaking to Sports Nation, Giovanna Rousseau of the Eco-friendly committee said she is happy with the overall running of the event this year, except for some administrative hiccups whereby the runners changed the numbers with others after having already registered, changing events during the race, and others crossing the finish line twice, meaning their numbers were registered twice by the finish judges making it difficult to know their exact positions.
R. D.