39 former health students graduate
02-March-2013

The ceremony, held at the School of Education Mont Fleuri, was graced by the presence of Vice-President Danny Faure.
Others who attended included Speaker of the National Assembly Dr Patrick Herminie, Minister for Education Macsuzy Mondon, Minister for Health Mitcy Larue and Minister for Labour and Human Resource Development Idith Alexander.
Members of the National Assembly, UniSey's vice-chancellor Marina Confait, World Health Organisation's liaison officer Cornelia Atsior, sponsors, lecturers and parents of the graduates were also present.
The graduates received their certificates before taking the oath of allegiance, pledging to uphold their profession regardless of the circumstances and to perform their duties to the best of their ability, at all times.
In his address, NIHSS director Rodney Philo called on the graduates to keep up to date with the challenges of the changing society as health is constantly evolving.
He talked about the institute's achievements such as its new building at North East Point which is more spacious and provides a conducive environment for teaching and learning.
Ten teaching staff of the institute are also undergoing training locally and in universities abroad.
Last year, the occupational therapy students also followed a one-month attachment at the Manipal University in India.
Mr Philo said the one-month exchange programme for nursing students with Reunion also continues.
I sincerely thank the Seychelles government for making funding available for this major capacity building initiative, he added.
During the ceremony, best performers and the most outstanding student were rewarded.
For the advanced diploma for nursing, Trevor Pouponeau was the best performer, while the award for best practice went to Sofia Beauchamp.
Rebecca Aglae was the best performer for diploma in bio-medical laboratory science while her colleague Darrel Scholastique won the award for best practice.
For occupational therapy, the best performer was Marie-Michelle Desaubin and for best practice the award went to Theresette Rose.
The prestigious President's Cup awarded to the most outstanding student went to Annabelle Clothilde who was following courses in advanced diploma in bio-medical laboratory science. She was presented with the trophy by Vice-President Faure.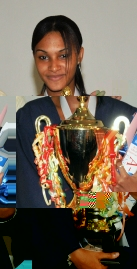 The graduates were afterwards joined by Mr Faure and Minister Mondon in the cafeteria for the cutting of a cake to mark the occasion.