Head teachers learn about inclusion of special needs pupils
02-March-2013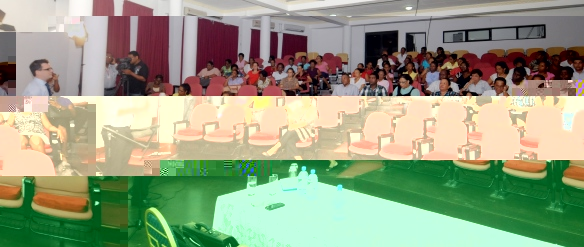 Patricia Francourt, a Seychelloise presently living in UK, is an educational and skills development consultant and David Bartram, specialising in "inclusion" from the London Leadership Strategy, are here at the invitation of the Ministry of Education to carry out an assessment of special needs education and draw up a guiding policy for implementation.
According to the experts, to allow pupils suffering from autism and other disabilities to be properly integrated in schools, the right environment must complement the medical issues.
In their assessment of the situation in Seychelles, they found that most schools do not have the right balance, with too much routine.
It was claimed that pupils with any disabilities do not adapt easily to training, delivered in "dribs and drabs".
It was argued that instead of segregating pupils, they should all be educated in mainstream schools. But this involves changing the way the classrooms operate with a minimum of disruptions.
This, Mr Bartram said, results in a far greater sense of personal accountability, especially from the more challenging students.
The head teachers and their deputies were able to watch a short video clip on how inclusion of pupils with disabilities into mainstream schools has created a revolution in Britain.
The London Leadership Strategy has worked with over 1,000 schools in the UK since 2003, providing them with the support at all stages on the school improvement journey.
The benefits of placing students with special needs into mainstream schools, instead of segregated ones, include raising achievements for pupils at all levels.
Mainstream education also ensures appropriate identification and referral of vulnerable students so that the support they receive is relevant and coordinated.
It also allows for effective deployment of staff -- including the best teachers -- as well as efficient use of resources.