Les Li Viv helps boost young mothers' skills
02-March-2013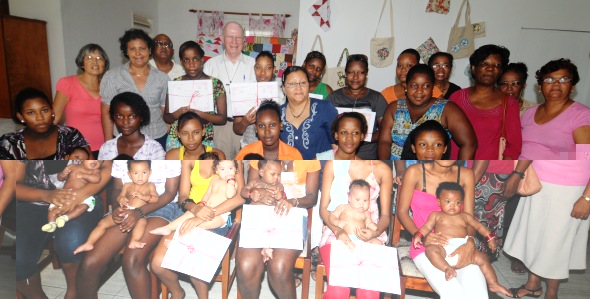 They received their certificates during a ceremony organised at the office of pro-life organisation Les Li Viv on Thursday.
Attending the ceremony were Catholic Bishop Denis Wiehe, Father Lonnie Adrienne, representative of the Liaison Unit for Non-Governmental Organisation (Lungos) Michel Pierre and Les Li Viv members.
The main topics covered during the eight-month course were sewing, computing, parenting skills, child development and preparation to enter the world of work.
Father Lonnie called on the young mothers to keep giving their support to Les Li Viv.
Mr Pierre re-affirmed Lungos' commitment and support towards Les Li Viv for this year.
Those present had the chance to view an exhibition mounted to showcase the work done by the young mothers during the training.