Football: Caf Champions League preliminaries-St Michel lose 0-3 away, 1-7 on aggregate
04-March-2013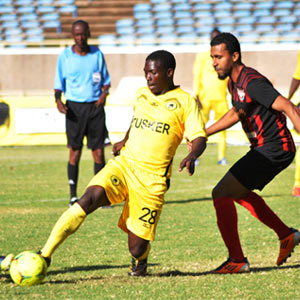 According to reports in the Kenyan media, St Michel were the more adventurous side and created more chances at the Moi International Sports Center, Kasarani (MISC Kasarani) in Nairobi although Malagasy import Jean Del'Or Tsaralaza was booked for rough play on Luke Ochieng.
Nelson Laurence weaved his way inside the Tusker defence in the 10th minute but could not execute the final shot for goal.
Then skipper Don Anacoura had an opportunity in the 25th minute with a rasping shot that missed the target by a whisker.
Laurence was again in the thick of the action in the 50th minute but he shot wide.
The report added that Tusker then took charge of the proceedings and Jesse Were's free-kick from the edge of the box troubled Nelson Sopha in the St Michel goal.
Peter Opiyo finally broke the deadlock in the 65th minute by heading in past Sopha and Ugandan Andrew Sekayombwa, who had come in for Ismail Dunga, headed in the second goal in the 70th minute after a St Michel defensive blunder.
Tusker's captain Joseph Shikokoti sealed the win with a powerful header past goalkeeper Sopha.
St Michel, who got the first goal of the first leg encounter at Stad Linite through a Gervais Waye-Hive 27th minute strike but still lost 1-4, are out of African premier club competition on a 1-7 aggregate score.
Seychelles champions St Michel were expected back home yesterday.
As for Tusker FC, whose first leg goals were scored by dependable central kingpin David Cheche Ochieng (30th and 85th minutes), 2012 Kenya secondary schools Most Valuable Player Michael Olunga (71st minute) and Uganda import Andrew Sekayombwa (83rd minute), are through to the first round where they will meet Egyptian giants Al Ahly in the first round. The first leg match will be played in a fortnight in Nairobi.
G. G.