Talk highlights benefits, challenges of arbitration
06-March-2013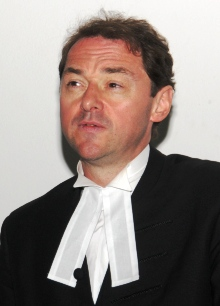 Mr Flynn giving his presentation
The talk, held at the School of Education's auditorium, highlighted several main points such as the history of arbitration, its basic definition and reasons why people would arbitrate a dispute.
The key message in his presentation was that the country should join the New York Convention and adopt the UNCITRAL Model Law.
This, he said, will place Seychelles on a par with other nations and means that it is far more likely to attract arbitration work internationally.
A good definition shared by Mr Flynn is one given in Halsbury's Laws of England (4th Edition, 1991 at paragraph 601:
Arbitration is defined as the process by which a dispute or difference between two or more parties as to their mutual legal rights and liabilities is referred to and determined judicially and with binding effect by the application of law by one or more persons (the arbitral tribunal) instead of by a court of law.
Mr Flynn said arbitration defers from mediation as in arbitration there is a binding power.
Talking about its history, he said arbitration is older than any form of national laws, adding that it has a long history likely to be as old as trade itself.
Mr Flynn said in arbitration, challenging jurisdiction is one of the most important things.
He also gave his audience examples of the challenges in arbitration as well as the reasons as to why people choose to arbitrate a dispute which includes confidentiality and neutrality.
Disadvantages of arbitration such as delays and costs were also highlighted in his presentation.
Those attending had the chance to ask questions and discussed with Mr Flynn after the presentation was given.