Hopes for closer ties between Victoria and Italian town
09-March-2013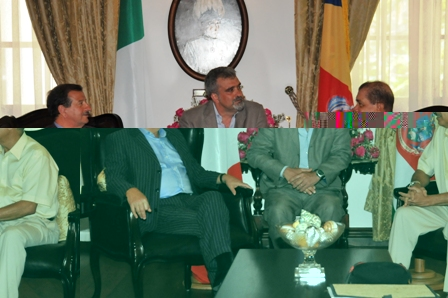 This came out when a delegation headed by the town's mayor Pietro Tidei – who is also a member of the Italian parliament – met President James Michel at State House in the presence of the Mayor of Victoria Jacqueline Moustache-Belle.
Also there was Italy-based Dorothy Furneau who is our tourism ambassador in Italy and also a member of the JJ Spirit Foundation.
Mr Tidei underscored the importance of the tourism industry to both countries.
During his talks with Mr Michel, Mr Tidei commended the President for the way this country is run and how we all benefit from free basic education "with nobody being left behind".
He told the media that his town would be willing to get Seychelles government's support in its desire to help Seychellois children more.
Mrs Moustache-Belle said if such ties are established they will help both cities to complement each other for example in the areas of culture as the two work to promote our youths and health delivery where Seychelles is likely to derive significant gains.
Civitavecchia hosted a party for Miss Seychelles and supported her other preparations for her Miss World title bid.
"It was a pleasure to host her and we believe we gave her global visibility," said Ms Furneau.