Women in the military honoured on their day
09-March-2013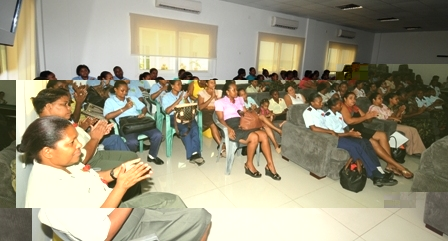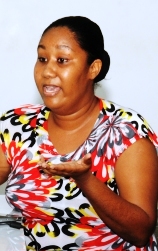 The audience listening to a presentation on reproductive health
In a small gathering at the coast guard base at Ile Perseverance yesterday afternoon, their male superiors and colleagues gave them a token of appreciation. Two nurses from the Alliance of Solidarity with the Family (ASFF) were also present to make presentations on reproductive health – an important aspect of life for women and their families.
Lieutenant Colonel Michael Rosette, Deputy Chief of Staff of the Seychelles People's Defence Forces (SPDF) and Lieutenant Colonel Georges Adeline of the coast guard among other officers were also present to congratulate the women and encourage them on this special day.
It was under the theme: The Gender Agenda: gaining momentum that women celebrated their day this year.
"I believe it is a day for women to reflect on their situation and celebrate their courage and here in Seychelles it is a moment for women to reflect on the opportunity they have to lead and guide," said Lt. Col. Rosette when he addressed the women.
He noted that here in Seychelles women's rights are recognised and they have achieved a lot through progress the country has made and this is also due to the women's own determination and vigour.
He said a lot has been achieved for the advancement of women worldwide but there is still a lot to be done for many women who are still suffering.
"But here in Seychelles women can make their own choices and choose their own career path," he said. Lt. Col. Rosette acknowledged and talked about the increasing number of women who are joining the military and gradually occupying high ranking posts and those on long overseas training.
"This is proof that the military is moving towards becoming more gender balanced and on this memorable day for women we express our sincere appreciation to our women and thank them all for their loyal service to the force and their country," Lt. Col. Rosette said.
The military officers then pinned a red flower on the women as a token of appreciation for their hard work after which Dorothy Athanase and Sheryn Raoul gave detailed presentations on reproductive health.
"While the women celebrate their day it is equally important that they take time to reflect on their reproductive health," said Françoise Larue, deputy chairperson of ASFF.