Ifad president meets food producers
09-March-2013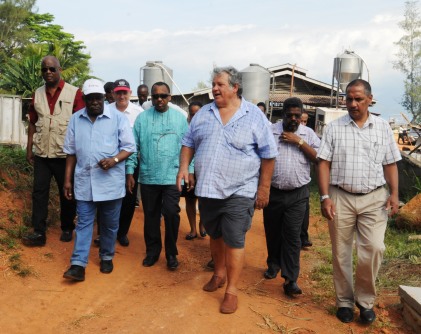 Mr Nwanze and his delegation touring Mr Corgat's farm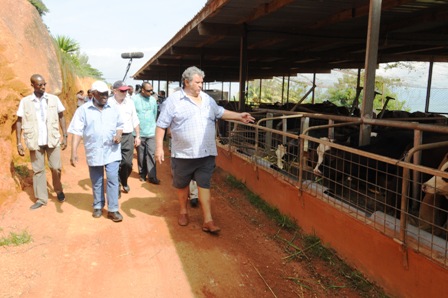 Mr Nwanze's busy day started with farm visits where he was happy to note that the chairperson of the Val d'Andorre farmers' association Juliana Brutus is a woman, adding that over 80% of food produced in Africa is from small farms where women are the main contributors.
He commended her and said he was happy his visit coincided with the International Women's Day, which he also marked with a souvenir photograph with the young ladies following farming at the Seychelles Agricultural and Horticultural Training Centre (SAHTC), where he was shown around by its director Georgie Belmont.
Farmers took the chance to explain to him the areas in which they need help, for example in efforts to compete with imported products which his events officer David Paqui said can never be as good as locally produced foods.
Guilmer Corgat was one of the people who held deep talks with Mr Nwanze, who said he was happy people in Seychelles are free to express themselves liberally.
Mr Corgat's farm has 1,500 pigs, 66 cows and 35 goats but he regretted lack of assurance of steady availability of chicken feed forced him to quit poultry farming.
The delegation included our Minister for Natural Resources and Industry Peter Sinon, the principal secretary for natural resources Michael Nalletamby and Ifad's Seychellois regional director for Eastern and Southern Africa Perin St Ange.
Together they visited an upcoming agricultural laboratory at Grand Anse where the technician Barry Nourrice explained what its role will be once completed.
The Ifad head appreciated our efforts to modernise our fishing industry when he visited the Maritime Training Centre (MTC) at Providence whose facilities its head Brian Hoareau took him round.
Visiting the SAHTC and MTC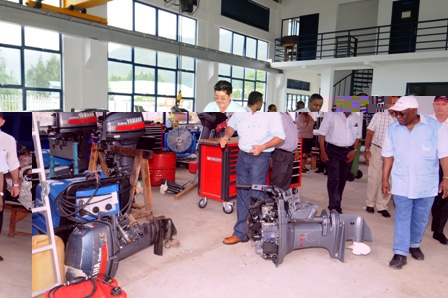 Mr Sinon explained to the media how he met Mr Nwanze in Rome when he became minister and initiated our efforts to join Ifad, thanking Finance, Trade and Investment Minister Pierre Laporte's efforts for his ministry to pay our dues to Ifad, which is now in the process of advancing us US $3 million to foster food production.
Mr Sinon said funds from the organisation are meant to develop the sector they are dedicated to and are therefore at very agreeable terms.
"And if we produce good results with the first US $3 million, Ifad will be ready to advance us more," he said, noting his vision is not only for the time he will be minister but also for the future of agriculture.