Culture talks begin at the Vijay International School
09-March-2013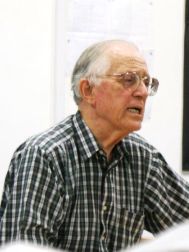 This was the first of an ongoing series of events entitled 'An Evening With...'
If anyone present was expecting a dull history lecture they were in for a pleasant surprise for, although there was plenty of history spoken about, a great deal of it concerned Bill McAteer's life and, in particular, his long relationship with the Seychelles.
Throughout a fascinating discourse Mr McAteer demonstrated his intense passion for the history of the islands while peppering his talk with humourous and entertaining anecdotes.
The talk was followed by a busy question and answer session during which Mr McAteer revealed the imminent publication of his fourth book on the history of the islands.
"It is finished and will be published soon," he told his receptive audience, many of whom would have purchased it on the spot had it been available.
The school plans to hold events of this kind regularly throughout the year.
Head of school Martin Kennedy said: "There are so many fascinating people in the Seychelles with engaging stories to tell and these gatherings will provide the opportunity to meet some of them in a fairly relaxed environment."
Future guests for the 'Evening With…' series have not been disclosed yet but they will all be high-profile specialist Seychellois or residents who will entertain as well as inform an audience.