20th anniversary of Third Republic-Artistic competitions to form part of celebrations
14-March-2013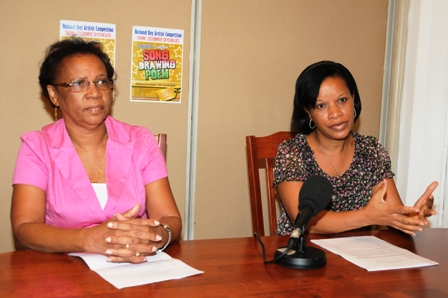 The theme of the competitions is 'Celebrating Seychelles'.
The principal secretary for culture, Benjamine Rose, said the occasion -- marking the approval of the Third Republic's Constitution in a referendum on June 18, 1993 -- promises to be a special one, with the traditional military parade, a National Expo, details of which have already been announced, and a host of other activities.
She said that during the past two decades, Seychelles has made tremendous development strides, notably in education, culture, tourism, transport, housing, banking and industries to name but a few.
"It is only fitting that artists and writers be given an opportunity to showcase some of these achievements in their own individual talent," she said.
The song, poem, drawing and essay writing contests will be conducted at school level -- with categories from primary, second to post-secondary institutions. The open category is for those over 20 years old. Songs, poems and essays may be in any of the national languages, that is English, Creole and French.
For all participants, entry forms are available at the National Cultural Centre, the National Arts Council (Nac) and district administration offices.
The school categories may participate in song, poem, drawing-painting and essay writing. The deadline for submission of entries is March 31.
For the open categories -- over 20 years -- participants may take part in the song, poem and drawing-painting contests, but not in essay writing. The deadline to return entry forms is also March 31, but the deadline to submit work is May 15.
Ms Rose said all entries will be judged by a jury panel of between five and seven members for their creativity, originality and innovation and there are three highly interesting prizes to be won in all categories. The level of expression and how the theme has been treated are also important criteria.
In addition, the winning entries will also be displayed at the National Expo to be held at the National Sports Council (NSC) hall (former SMB hall).
The National Expo, which will also include an agricultural and horticultural show, as well as showcasing, tourism, industry, trade, banking and other economic and social activities, is expected to attract over 20,000 people.
Ms Rose said the artistic competitions are geared towards showcasing the creativity of Seychellois of all ages in various art forms.
She added that another objective of the competitions is to get people involved in positive reflections about Seychelles as a nation.
Education principal secretary Merida Delcy said the artistic competition has already been launched in schools where it is generating a fair amount of interest.
She said youths should be encouraged to express themselves on Seychelles' progress over the past 20 years.
Ms Delcy acknowledged the fact that students aged 20 or under may not remember Seychelles as it was more than a decade ago. She said that is where a fair amount of research will be involved.
Both principal secretaries expressed the hope that parents will support their children taking part in the artistic competitions and give whatever guidance is necessary. Research is an avenue where the parents can obviously assist.
It is also felt the works submitted will serve as good souvenirs of the Third Republic's 20th anniversary for future generations.
The organisers are also calling for sponsors, who will display banners, logos and other advertising items of their company in any event pertaining to the project.
Sponsors will also receive letters commending them, from the Vice-President Danny Faure, who is chairperson of the National Day Committee.
Sponsors will also receive free media publicity and appear in a souvenir brochure, commemorating the 20th anniversary of the Third Republic.