Seychelles' 'Sega Queen' celebrates 25 years in music
14-March-2013
To mark this milestone, a special ceremony was organised at the Carrefour des Arts last Friday, which coincided with the International Women's Day and the birthday of Joenise's daughter, Vanessa.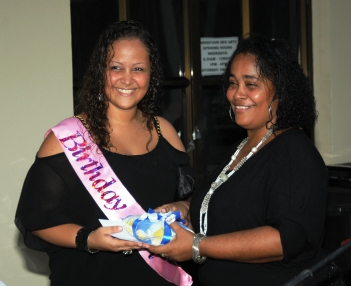 Also during the ceremony, Joenise launched her 11th album entitled Retras Larout, which is a collection of songs from all her previous 10 albums.
Joenise said she has taken a song from each of her albums such as her first one in 1990 entitled Lanmour Sove, Larenn Sega in 1995 and Ansyen Refren in 1996. The songs are also the titles of her albums.
Addressing guests at the event, Joenise said she is proud of what she has achieved and thanked her family especially her mother, Eveline Lucas, and stepfather David Lucas for their continuous love and support.
Also present at the event were Minister for Tourism and Culture Alain St Ange, principal secretaries for tourism Sherin Renaud and for culture Benjamine Rose, chief executive of the National Arts Council Jimmy Savy and several artists.
Minister St Ange and Mr Savy had words of encouragement for Joenise while congratulating her on her achievements while Andreix Rosalie talked about her 25-year musical career.

Joenise then presented copies of her CD and profile to the minister and Mr Savy and gifts to her loved ones who have supported her throughout those years.

The artist's mother then had the honour to open an exhibition which depicts the Sega Queen's successes during those 25 years.


Joenise started singing at a young age and is now a member of the L'Echo band. Years back, she used to be a member in bands such as the Red Berets, Equinox and Footsteps.