Indian dental experts bring new tooth implant service locally
15-March-2013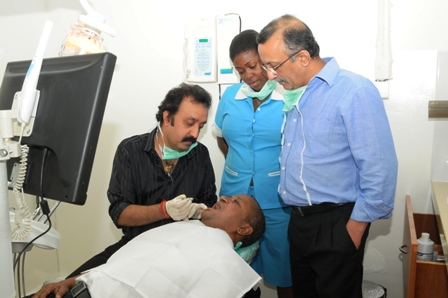 Endodontist Dr J. Ganapathy and dental surgeon and consulting endodontist Dr V. S. Mohan from Mumbai, India offered dental services at the Dr Murthy's dental clinic on Lodge Street.
The dental experts' visit to Seychelles is thanks to a partnership which the DentaVista company in Chennai, India, chaired by Dr J. Ganapathy, has with Dr Murthy's clinic.
Dr Mohan said they have seen patients who need to have implants and root canal treatment.
He added that a patient can have more than one implant and that six to seven implants can take about three hours depending on the patient's age, comfort and other factors.
Dr Mohan said the reasons most people end up having implants is due to tooth decay, improper or late treatment of the decayed tooth and bad oral hygiene.
He said if maintained well the implants can last for a minimum 15 years.
He added that implants do not suffer from dental caries, which is a tooth decay disease, but it is important that patients visit the dentist regularly every six months.
Before the implantation is done, a pre surgical-medical evaluation of the patient is done and this includes checking their medical condition.
There are several factors to take into account which include if the patient is taking anti-cancer drugs, hypertensive drugs or if he or she is asthmatic or diabetic.
People who smoke are also advised to quit smoking if they want to have an implant.
Dr Mohan said the condition of the neighbouring tooth needs to be examined as part of the pre-surgical-medical evaluation.
He said complications during surgery arise, but should be avoided and tackled immediately and this may include anaesthetic procedures when doing the implant.
The experts are expected to come back to Seychelles in three months' time and will have about more than 10 implants to carry out.
Dr Ganapathy said their work in Seychelles has gone well and they have had good response with the patients.
He added that they aim to bring the best dental services in the country using the American and German state-of-the-art technology.