Strengthening and empowering civil society organisations
16-March-2013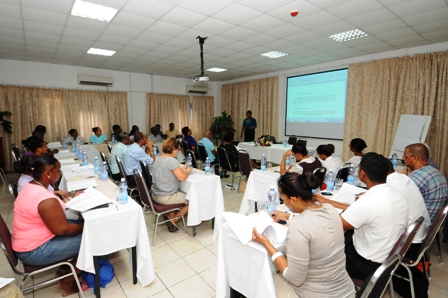 The meeting was held at Lungos' conference room, Orion Mall, with opening remarks by its chairperson Marie-Nella Azemia.
She said that stakeholders are to look with a critical eye at proposals submitted by the technical group which has met twice over the past year and is not there just to defend the status quo.
This strategic plan brings to the fore new thinking and approaches to the way the platform conducts its business.
It involves a transformation and subsequent formation of a new civil society organisation (CSO) platform owned by its members and existing communication and provides a common voice in national and international forums.
Facilitated by Shella Mohideen, the workshop discussed various issues contained in the plan. These include capacity-building which involves having enough staff and volunteers with the right technical and professional competencies to effectively manage the operations of the platform. This remains a challenge as many staff and volunteers are overwhelmed with work and the demand is on their time.
To redress this lack of capacity, the Lungos has initiated a civil society organisations' academy where CSO members with the right proficiency are encouraged to use their know-how to support others.
It was noted that the academy has already organised various training, for instance, in project management, which should help CSOs to manage their respective organisation more effectively.
Lungos has a memorandum of understanding (MoU) with government which expires in 2013. Lungos needs to review the MoU and negotiate for improved support and collaborations.
It was felt there is a need to review the landscape of these organisations operating as CSOs. Some of them are said to be not operating under any legal and institutional framework, which can be used to guide their actions and protect people and other organisations working with them from harm, especially fraudulent behaviours.
Lungos receives a budget from government as well as a grant from organisations, such as the United Nations and foreign diplomatic missions.
Lungos has also engaged in a few activities to generate revenue, such as renting office space and vehicles, but this needs to be further diversified.