'Give a fair chance to Seychellois,' minister tells hotel managers
18-March-2013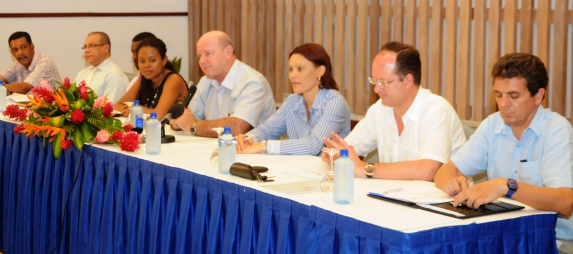 Minister St Ange (centre in photo on the right) addressing the meeting on Friday
The group of 15 young men and women constituted the first cohort of students to follow a three-year management course at the Seychelles Tourism Academy (STA) at La Misère, followed by a year at Shannon, leading to a diploma.
They all performed remarkably well, said Mr St Ange and one of them, Rose-May Payet – who was not present at the gathering held at the Le Meridien Barbarons Hotel on Friday – scored best overall at Shannon, where Seychellois constituted the largest cohort of foreign students from 13 countries.
"This achievement speaks for itself," he said.
Miss Payet and her parents are due to be received by President James Michel soon in recognition of her excellent performance.
During the three-year period, the students had the opportunity to go on attachment at certain local resorts as well as others in Mauritius for practical experience.
An 'Hotel D'Application' is presently being built as part of the STA renovation and extension programme which will allow students to gain first-hand experience in running a hotel on site.
Mr St Ange said now that the first 15 graduates in hotel management are back it is only fair to expect management of large and medium hotels to offer them a post to prove themselves.
He noted that we already have a second cohort at Shannon, to be followed by a third group later this year. This will add up to over 40 graduates in all by next year, and it is up to the hotels to retain them with good salary packages, otherwise they will feel frustrated and either not perform or leave.
Mr St Ange said the government has invested heavily in the students, since President James Michel envisaged that Seychelles should train its own hotel managers.
He noted that President Michel gave his full backing to secure the funding to finance the studies and now it is only fair that the students and the hotels show they were worthy of the commitment.
Mr St Ange noted it is the policy of the Ministry of Labour and Human Resource Development to give priority to Seychellois in employment. This ministry, he said, has already stated that attractive salary packages must be offered to competent Seychellois to retain them in the tourism industry.
Tourism is presently the largest sector employing expatriates, after construction.
Mr St Ange, however, acknowledged that Seychelles has a small labour force and that non-Seychellois have to be employed in some areas.
"The country however needs its people to work," he said, adding that every Seychellois deserves to be given a chance for fair recruitment and those who outshine and excel should be rewarded accordingly.
The minister said that recently he has had to intervene after an apparently well qualified candidate waited in vain after submitting a job application to a hotel, which was not even acknowledged by the human resources (HR) manager.
Recently a tourism company also advertised for an Afrikaans-speaking staff, in a clear ruse to entice only non-Seychellois as the language is only spoken by a small minority in South Africa.
Seychelles Tourism Board (STB) chief executive Elsia Grandcourt said that training of hotel management students seconded to hotels for practical experience, are not properly followed. She added that hotels' HR managers should have a proper training programme which should be followed fully.
During the meeting concern was also expressed about unsigned letters allegedly from staff in circulation.
It appears that management of quite a few hotels is targeted. Norbert Couvreur, general manager of Sainte Anne Resort & Spa, told the gathering that since his tenure he has appointed 20 Seychellois to middle management positions. He noted that upon promotion, some staff earn salary increases of up to 50%.
One of them is Sheila Paul, one of the new graduates from the Shannon college. He said he intends to continue encouraging Seychellois staff to perform better and adopt the right attitudes, even though he is persistently being attacked by a particular newspaper.
Mr St Ange responded that grievances must be looked into, but unsigned correspondence should be ignored as they tend to create a malaise within the industry, whereby some management staff feel threatened and are subsequently not free to operate properly.
"People who have a complaint should have the courage to come forward or at least sign their complaints, as we need to know the complainant," said Mr St Ange, adding that both he and Ms Grandcourt adopt an open-door policy vis-à-vis hoteliers and other tourism operators.