Seychellois gets prestigious award for role in regional integration
18-March-2013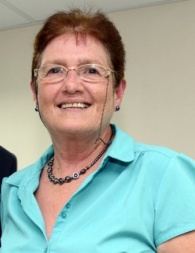 The CSK is the third highest award of merit in Mauritius, given in recognition for Mrs D'Offay's outstanding contribution in the field of regional integration.
President James Michel has extended his warmest congratulations to Mrs D'Offay on her decoration. President Michel was himself decorated as Grand Commander of the Star and Key (GCSK), the highest award of the order last year when he was guest of honour at Mauritius' National Day celebrations.
Foreign Affairs Minister Jean-Paul Adam has described Mrs D'Offay's achievement as a well-deserved recognition of her many years of service, both to Seychelles and the Indian Ocean Commission.
"Mrs D'Offay is a remarkable woman who has dedicated her career to the growth and development of the country and her wealth of experience and expertise is an invaluable resource for our country, and for the Indian Ocean Commission as a whole. She serves as an inspiration to all," said Minister Adam.
The award was conferred during the Mauritius National Day celebrations held on Tuesday March 12.
Mrs D'Offay began her career as a civil servant in 1966 as a clerk with the department of agriculture. She joined the then Ministry of Planning and Development in 1981, and began to work in the context of regional cooperation. Present at the signing in 1984 of the 'Accord de Victoria' which established the Indian Ocean Commission, she has spent most of her diplomatic career since actively promoting the cause of regional cooperation as Officier Permanent de Liaison (OPL) for Seychelles in the context of regional cooperation.
During the Seychelles presidency of the Indian Ocean Commission from October 2011 to January 2013, Mrs D'Offay presided the committee of OPLs. She has worked to increase Indian Ocean Commission involvement in issues such as piracy, the establishment of stronger regional maritime trade network, as well as helping in the resolution of the political crisis in Madagascar.