Labour minister launches Productivity awareness week-'Let's work together to boost productivity'
19-March-2013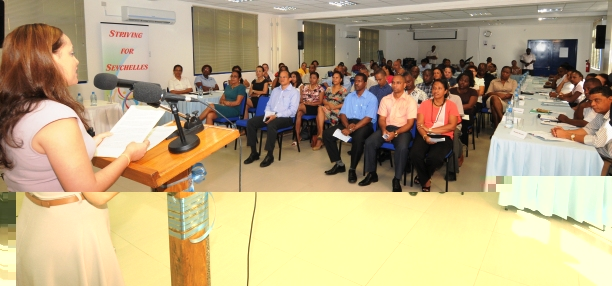 This was said by Labour and Human Resource Development Minister Idith Alexander yesterday while officially launching this year's Productivity awareness week. The launch coincided with the opening of a three-day workshop with the theme Bouze, Annou Travay.
The workshop is being attended by 40 organisations from both the public and private sectors and aims to work with human resource managers to encourage and reward hard work by employees.
"Productivity for our nation is very important," said Ms Alexander in her speech. "It is a determinant factor of our country's standard of living, and it is our main source of national income. Let us therefore be guided by the concept that productivity is not about what the country has but it is about how our country uses its resources."
The minister took the opportunity to urge anyone planning to start a business to consider how best their business can create employment opportunities and growth for future employment.
"Employers should consider employment objectives in their business plans to create decent jobs and help to motivate the unemployed to join the labour market so that they too can make their contribution in increasing national productivity," she said.
"I believe that despite our size, our strength lies in our vision and intelligence as a nation. More can therefore be done and I count on your support for us to do it together," said Ms Alexander.
"Let us then do what we must to bring greater progress to our nation that will permeate to each and every citizen of Seychelles."
Also present at the launch were the secretary general of the Seychelles Federation of Workers Union Antoine Robinson, and the executive secretary of the Association of Seychelles Employers Gilbert Sultan Beaudouin, to represent the collective interests of both employees and employers.
"We look forward that this renewed productivity awareness gives our workforce at all levels and in all sectors, a new sense of ownership," said Mr Robinson.
"I also hope that employers prepare themselves to be receptive to this anticipated change of attitude and create a work culture conducive to heightened productivity."