Changed climate dictates individual water storage
23-March-2013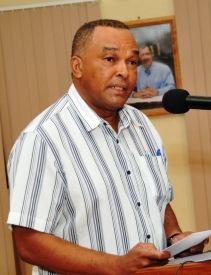 Mr Agricole addressing guests and delegates at the workshop
New commercial buildings are already expected to have sizeable water storage capacity for example underground, while new homes are required by planning regulations to harvest and store rain water.
The Minister for Environment and Energy Professor Rolph Payet said this yesterday as staff of the Seychelles Meteorological Services held a half-day workshop at the Seychelles Trading Company to mark World Meteorological Day which falls today.
The workshop was held under the theme 'Watching the weather to protect life and property' and was launched by principal secretary (PS) in the ministry Wills Agricole.
Also present were volunteer rainfall readers who were recognised for their useful role as they took a souvenir photo with both the PS and the minister.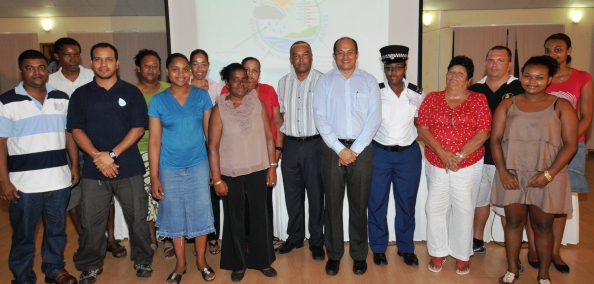 Prof Payet said that while light showers like those which fell on Thursday made a big change in the domestic or individual firms' water storage capacity, the rain was not enough to make an impact in larger reservoirs like La Gogue dam.
Mr Agricole said the theme showed the importance of national meteorological services at a time when communities around the globe are striving to improve resilience in the face of recurrent disasters due to the mounting impacts of climate change.
He said the ministry organised the workshop to raise awareness of all relevant stakeholders on weather and climate change issues.
"Our communities are the first to be affected when there is a change in our weather or climate. We know for example that district authorities are also usually the first to be contacted by the people when they are affected with problems related to weather, climate, water and disaster. This was clear during the disaster of January 27-28, 2013. It is therefore crucial for community leaders to understand the causes and effects of these changes and how best they can help their communities to mitigate or adapt to it," said Mr Agricole.
"The growing impact of weather extremes cannot be ignored," he said, recalling the effects of tropical cyclone Felleng which wreaked havoc over the eastern coast of Mahé, inflicting significant loss and damage to houses, roads, drains, schools and other infrastructure due to extensive flooding and landslides.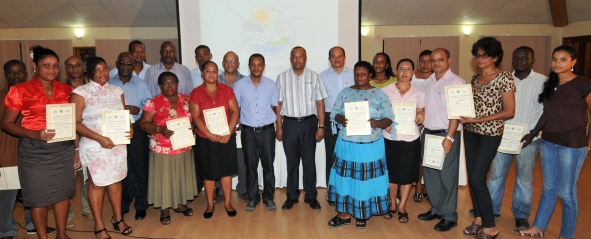 "The fact that tropical cyclone activities are forming and happening within the Seychelles exclusive economic zone necessitates a national wake-up call. This means that the effects of climate change, will most likely present a host of new challenges in the future," he said.
Prof Payet gave staff of the Met Services certificates appreciating the work they do and also took a picture with them.