Regatta 2012 proceeds fund renovation work at Exceptional School
23-March-2013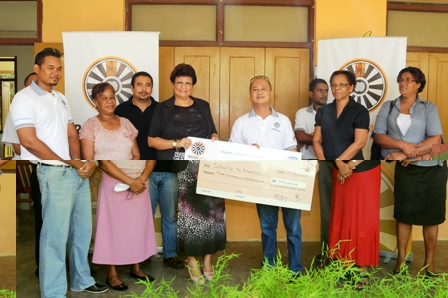 The renovation work at the school included barriers to prevent children using wheelchairs from falling in the gutters, a fresh coat of paint, new cupboards and working tables in the kitchen.
The project amounting to R350,000 also covers work done in the toilets and store as well as the purchase of equipment and specialised wheelchairs for the children.
Work done to renovate the school has cost R270,000 while the remaining R80,000 has been used to purchase the wheelchairs and equipment.
A cheque worth R350,000 was presented to the Minister for Education Macsuzy Mondon in the presence of the ministry's principal secretary Merida Delcy and director general for schools Odile Octave, the school's head Monica Accouche, SRT2 members, teachers and students.
Chairperson of the SRT2 Vincent Lee Kim Koon said the aim of the project was to make the environment more conducive for the development of the special children.
"We are pleased that we are helping in making a positive difference in the lives of these children and contributing towards the government's efforts to renovate the public schools," he added.
"I am encouraging all gentlemen within the age group 18-40 years old to join the SRT2 in contributing towards our community through fellowship and volunteerism."
Mrs Accouche thanked the SRT2 for its contribution in the pupils' development and called on other organisations to follow this good example.