Sign language and deaf mediators complete second part of communication training
23-March-2013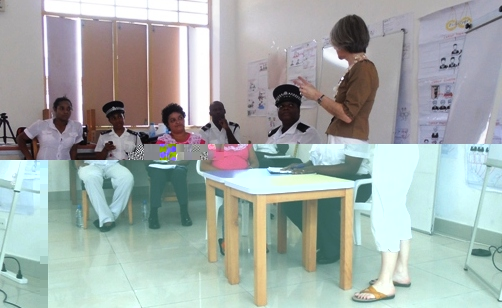 Monique Gendrot from a French institute for the deaf was here around the end of last year where she carried out and completed the first part of the programme.
The language and communication skills will allow those trained to act as interpreters and mediators for deaf people when they have to conduct official business or access services.
Anita Gardner, the project's coordinator and also chairperson of the Association for People with Hearing Impairment (Aphi), said the second module of the training focused on the functions of the social services departments, especially the family tribunal. It also covered the employment tribunal.
The programme, which is being funded under the 10th EDF programme, was held at the Au Cap primary school where the school for deaf pupils is also based.
The police also took part by making a presentation on police procedures when carrying out investigation and arrest up to when a suspect is taken to court.
"Members of the police force also performed role plays for those taking part in the training to see how an interpreter intervenes and how and when an interpreter requires the help of a deaf mediator," Mrs Gardner explained.
Carol Celestine, a participant, said: "To learn sign language is one thing but training on how to use it in interpreting is another matter and it was really tough as I was practicing sign language in another perspective but now I am much more comfortable and confident.''
The group receiving the training also interacted with court interpreters through questions and answers.
"The training will surely be of immense benefit for the group and court personnel as they will now better understand the roles of interpreters and mediators if they have to deal with cases involving deaf people," said Mrs Gardner.
She further added that the training, which is of a very high level, is also very intensive.
The third and last module is expected to be held next month.