Football: Barclays league division one-Henriette's hat-trick helps La Passe demolish LightStars
25-March-2013
Henriette's hat-trick is the third registered in the first three rounds of matches in the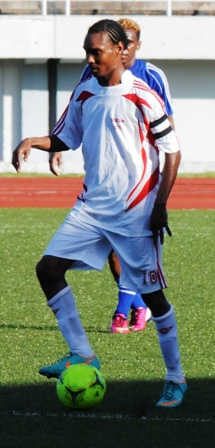 Barclays league division one. St Roch's Alpha Baldé got the first followed by St Louis Suns' captain Mervin Mathiot.
In other matches, The Lions edged 10-man St Roch 1-0 at Stad Linite on Saturday, on Praslin Côte d'Or came from behind to overcome Anse Reunion 2-1 and on Friday at Stad Linite, St Michel laboured to a 3-1 victory over Northern Dynamo.
La Passe tear apart LightStars
On La Digue, La Passe tore apart a hapless LightStars 5-1, inspired by a hat-trick by captain Achille Henriette on Saturday.
Henriette has now scored five goals in two matches and on Saturday, he opened the scoring in the first half before doubling the score.
Malagasy Fagnorena stretched his team's lead to make it 3-0 at half-time.
Henriette completed his hat-trick after the break to make it 4-0 before Malagasy Valerie scored from the penalty spot for a 5-0 score minutes later.
La Passe's victory though was slightly tarnished as defender Fabien Albert was shown a red card by referee Alistair Barra for a bad tackle.
LightStars scored a consolation goal from the penalty spot through Malagasy Mario Ravo as La Passe ran out comfortable victors on a 5-1 score in a match which they completely dominated to lead the league standings with seven points after three matches.
The Lions edge St Roch
This encounter was of poor quality with very few goal-scoring opportunities especially in the first half.
The first real opportunity came in the 24th minute as The Lions' captain Randolph Lablache played a neat one-two with Denis Auguste before he latched onto the return pass to bore on goal but with only debutant goalkeeper Randolph Bijoux to beat, he shot wide as the former Red Star custodian had narrowed the angle.
The Lions thought they should have been awarded a penalty in the 43rd minute as Darrel Damoo showed a glimpse of his blistering pace to race clear and appeared to be pulled down by St Roch's Malagasy captain Nestor Benahovy but referee Nelson Emile was not convinced.
The match improved slightly in the second period probably because of the bright sunshine setting which may have affected the players in the first half with the intense heat.
In the 47th minute, The Lions' Gino Agathine should have hit the target with a clear header from Rachim Padayachy's free-kick.
Ten minutes later, referee Nelson Emile denied The Lions a more blatant penalty as Denis Belle scythed down Denis Auguste in full flight but he waved play on.
In the 68th minute, The Lions' captain Lablache burst through on the right and rifled a powerful shot at goalkeeper Bijoux who was equal to the task.
In the 76th minute, controversy loomed large as captain Lablache clearly pushed goalkeeper Bijoux who was going to collect a high ball after The Lions skipper had got the better of St Roch's captain Benahovy. As the St Roch players hesitated, expecting an obvious whistle to indicate a clear foul, the official allowed play to go on and Lablache shot the loose ball into the net to make it 1-0 much to the disgust of the St Roch camp.
The St Roch players could not hide their anger at referee Emile who was completely wrong to allow the goal to stand. Denis Belle confronted him on his decision and was shown a yellow card, his second of the match and therefore he was given his marching orders as the match threatened to get out of hand.
St Roch had to accept and show more urgency which almost resulted in a cracking goal in the 77th minute.
Captain Benahovy let fly a thunderous free-kick from over 30 metres which crashed against the crossbar as The Lions rode their luck.
St Roch had to gamble as they played with three at the back and captain Benahovy pushed into midfield to help Alpha Baldé and the rest as they looked for an equaliser.
However, it was The Lions who should have added a second in the 88th minute as Ashley Corallie sent a through pass to Malagasy substitute Antonio Rakotoarinosy. Impressive St Roch goalkeeper Bijoux had the ball covered but he spilled it as he dived at the Malagasy striker's feet. Malagasy Antonio, to everyone's surprise, shot wide with the goal at his mercy.
The Lions though secured all the points in a match which sadly the official helped to decide the final result.
Below-par St Michel win against Northern Dynamo
Defending Barclays league division one champions St Michel left it late against Northern Dynamo as they ran out 3-1 winners at Stad Linite on Friday.
Unfortunately once again it was the official who took centre stage as Egbert Havelock had a poor game and was particular harsh on St Michel who were at times the victims of some crude tackles but did not get the necessary protection and were rather penalised mercilessly.
Nonetheless, St Michel played below-par, especially in the first half despite taking the lead as Malagasy Jean-Del'Or Tsaralaza set up Leeroy Corallie who slid the ball through goalkeeper and captain Jules Monnaie's legs to open the scoring at 1-0 in the 28th minute.
Northern Dynamo though had numerous chances in this first period, especially Marcus Maria and Malagasy Asman Todisoa who were guilty of bad misses in one-on-one situations with reserve goalie Gino Melanie.
In fact St Michel were a depleted squad as Allen Larue, captain Don Anacoura and Malagasy Hassan Aly were out and this affected their rhythm.
Dynamo equalised in the 39th minute as Basil Bertin shot past goalkeeper Melanie for a 1-1 score at half-time.
St Michel pulled off Julio Denousse and Andy Mougal at the break and brought on Dereck Agathine and Wilnes Brutus who surprisingly operated in midfield alongside Nelson Laurence.
Brutus almost got on the score-sheet in the opening minute of the second period as he connected to Gervais Waye-Hive's teasing cross but he could not guide his header on target.
However, this half was marred by some controversial decisions by referee Havelock as he kept flashing his yellow card especially at the St Michel players as they were unhappy with the handling of this match.
Dynamo's Ronny Marengo had to receive treatment in the 67th minute for a head injury but had to plod on as captain Ronny Hoareau is suspended for two matches after being sent off against The Lions.
As St Michel kept pushing to regain the lead, Dynamo should have punished them in the 70th minute on a quick break involving Todisoa and Maria. Todisoa picked up a long ball to release Maria whose instinctive left foot shot crashed against the post with goalkeeper Melanie rooted to the spot as his team rode their luck.
St Michel went ahead for the second time in this encounter in the 84th minute as Del'Or capitalised on Marengo's mistake to race clear and he coolly slotted the ball into the far corner away from the reach of goalkeeper Monnaie to make it 2-1 much to the relief of the St Michel fans.
On the stroke of full-time, St Michel stretched their lead from Waye-Hive's low free-kick after Agathine had been fouled as he bore forward. Waye-Hive's curling free-kick flew into the far corner as goalkeeper Monnaie was distracted by Corallie's clever run across goal, sealing St Michel's 3-1 victory.
Tigana brace saves Côte d'Or
Malagasy Jean Tigana scored two late goals to help Côte d'Or come from behind to beat Anse Reunion 2-1 on Praslin.
Côte d'Or must have been a bit jaded after a tough match against Ste Louisienne in group A of the l'UFFOI tournament on Thursday but had 2012 footballer of the year to thank for his rescue act.
Anse Reunion had silenced the home crowd in the 55th minute as Malagasy Hugo Sezou gave his team a 1-0 lead.
Côte d'Or though fought back and in the 85th minute, Gerald Basset was brought down by Anse Reunion's Malagasy captain Eddy for a penalty awarded by referee Kierens Yocette. Surprisingly Collin Esther fired the spot kick wide of goalkeeper Jean-Paul Ah-Kong's goal. Collin Esther though won a penalty in the 87th minute as he was pulled down by Shaun Barbé. Malagasy Tigana assumed responsibility for his second spot-kick and he duly obliged as he scored to level the score at 1-1.
Referee Yocette awarded six minutes of injury time due to a lot of time wasting by Anse Reunion and Tigana scored in the 93rd minute to give Côte d'Or a hard-fought 2-1 win.
R. J-L.