Sri Lankan minister discusses implementation of accords with President Michel
27-March-2013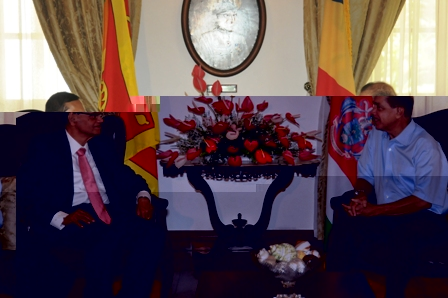 Prof Peiris, who has been Minister for External Affairs since 2010, called the existing cooperation between the two Indian Ocean island states as "multi-faceted and said it has been strengthened since President Michel's visit to Sri Lanka last year.
He noted that Sri Lanka's President, Mahinda Rajapaksa, is scheduling a visit in Seychelles soon, while President Michel is also due to attend the Commonwealth Summit in Colombo in November.
He said things have moved fast within a very short period, producing remarkable results, with several projects implemented, because of the commitment and reciprocity of the two countries' leaders.
Prof. Peiris on Monday visited the Seychelles Coastguard base and was due to tour the Maritime Training Centre yesterday afternoon.
He was accompanied at State House by Sri Lanka's honorary consul in Victoria, Roy Fonseka, and also met Vice-President Danny Faure, where they were joined by Foreign Affairs Minister Jean-Paul Adam.
On his talks with President Michel, he said they focused on the "blue economy" which, he said, does not mean just fisheries, but also concerns trade, shipping and maritime activities linked to tourism.
A few months after President Michel's visit to Colombo, the Sri Lankan Fisheries Minister, Rajitha Seneratne, visited Seychelles, providing an opportunity for our two countries to bolster our fisheries partnership.
As discussed during President Michel's visit, a $10 million line of credit, to be used in trade and commercial transaction with Sri Lanka, was agreed to be made available. The funds will also be used for boatbuilding in Sri Lankan shipyards to benefit Seychelles' long lining industry.
In the field of education, he noted that already some 30 Sri Lankan teachers are in Seychelles to teach and lecture in both secondary and post-secondary institutions. Collaboration between the University of Seychelles and Colombo University was also discussed.
On Defence, Prof. Peiris said Sri Lanka has offered some excellent military training for Seychelles military personnel. One Seychellois member of the Seychelles People's Defence Forces (SPDF) is already training in Sri Lanka and five others will also be going for training soon.
The Sri Lankan External Affairs Minister said the talks covered finance, an area where the two countries have a Double Taxation Avoidance Agreement since September 2011. He noted that the "Bank of Ceylon" is considering setting up a branch in Victoria.
During his visit the Sri Lankan Minister also paid a courtesy call on the Speaker of the National Assembly, Dr Patrick Herminie.