Dazzling underwater world on show at Kenwyn House gallery
28-March-2013
Ms Fanchette's artworks, which are famously all to do with fish and the underwater world, has been well-received by art lovers and visitors to the exhibition's opening night last Friday.
Speaking at the opening ceremony, the principal secretary for culture Benjamine Rose commended Ms Fanchette for her tenacity and the hard work that it takes to put an art exhibition together.
"With no formal art background, she has been able to transform her skill and artistic vigour into beautiful artworks. The use of her paint brush and the ability to bring such wonderful colours to life are compelling qualities obvious in the work on show here," said Ms Rose.
At just 27 years of age, Ms Fanchette is one of several artists exhibited at Kenwyn House who have no formal training in fine art, and the down-to-earth but rather timid artist says this makes perfecting her artworks all the harder.
"I have to keep experimenting with new techniques to develop my skills, but sometimes it's very difficult for me. In my mind, it seems easy but when I have to do it in real life, it becomes quite challenging."
Ms Fanchette says she doesn't know for sure why she likes painting fish so much, but believes it's because her father showed her how to draw them when she was a child, and she has been drawing fish ever since then.
When asked about her other hobbies, Ms Fanchette smiled expansively and replied that when she is not painting fish, she enjoys catching real ones with her cousins.
The artist enjoys the patronage of many high-profile art-lovers, including Attorney-General Ronnie Govinden. "Apparently his house is filled up with my fish," she laughed. "So I guess that makes him my biggest fan, and I thank him for that."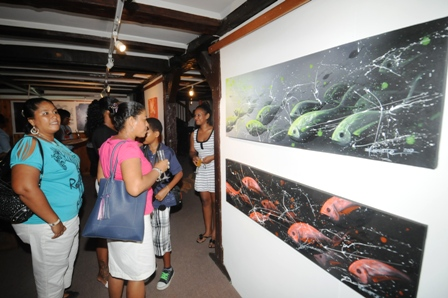 The principal secretary said that the Ministry of Tourism and Culture and the National Arts Council are fully engaged in supporting artists like Ms Fanchette.
"We are working full-steam ahead to start implementing the creative industries policy, which will revolutionise the art industry and move it to the next level."