Table tennis: Curtain-raiser tournament-Sultan, Bristol retain singles titles
28-March-2013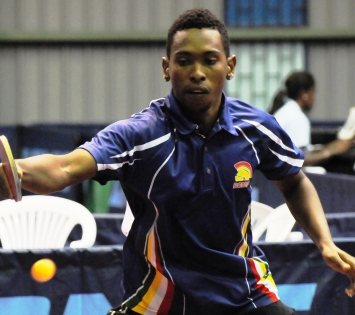 In the men's division one final played on Tuesday at the Roche Caïman Omni-Sports Gym, Sultan dropped one set on the way to a 4-1 (11-7, 9-11, 11-9, 12-10) victory against Dodin to keep the crown he reclaimed last year after Vincent Isaac had put an end to his eight-year stranglehold on the men's singles title in 2011.
Nicholas Esther finished third and Bryon Mousbé was fourth.
After succeeding Margaret Gabriel as the curtain-raiser women's division one singles champion in 2011, Christy Bristol has shown she is not ready to let the title slip away from her grasps.
On Tuesday, she was up against Laura Sinon for the second year running and once again finished on top of the latter.
Player of the year Bristol whitewashed Sinon 4-0 (11-6, 11-5, 12-10, 11-9) to make it a third win in a row.
Samantha François settled for third place.
In the boys' division two, victory went to Mario Lablache who beat Dorian Banane 3-0 (13-11, 11-8, 11-8) in the final, while Mael Youpa needed five sets before edging Dylan Siméon 3-2 (11-9, 9-11, 11-5, 4-11, 11-9) in the boys' division three final.
The ladies' division three group was won by Kim Hoareau with a 3-0 (11-8, 11-5, 11-6) final win against Emma Ah-Wan. Nisha Belmont and Joelene Mondon finished third and fourth.
Meanwhile, the Seychelles Table Tennis Association has said its next competition – the April challenge – will be played on Sunday April 14.
G. G.