Social renaissance committee meets
01-April-2013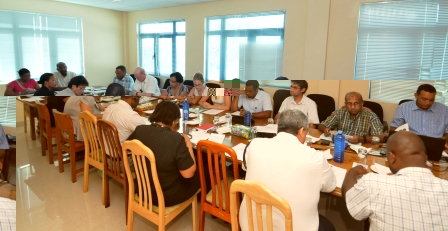 The Unity House meeting opened with individual prayers which Roman Catholic Bishop Denis Wiehe urged his fellow members to say in accordance with their faith and belief.
Mr Meriton thanked the members "accepting President James Michel's invitation to serve on the committee which is mandated to coordinate social renaissance actions".
He urged the members to try and work together.
"We can always call for help (from other members) which is not a sign of weakness but of good judgment. We are all in this together for the benefit of our children – the future generations of this country," he said, recalling the efforts started in 2011 with visits around the whole country trying to find out what the challenges were.
The team's guide, The National Social Renaissance plan of action 2012-2016, lists six main goals which seek to uphold the family as the central unit of society; to empower communities to take part in development; to promote positive living values and adoption of healthy lifestyles; encourage higher levels of personal, professional, civic and corporate responsibility; safeguard homes and communities and to protect the health, safety and quality of life of all Seychellois.
The renaissance programme themes are Responsibility, respect and hard work, while the motto is Moving beyond problems.
Mr Meriton launched the plan of action in November last year. It has six sectoral committees: national crime and harm
reduction committee, education, employment, family and community relationship, health, and non-governmental organisation sector.
The campaign has involved the population proposing solutions to the country's social challenges as well as getting involved in the plans and programmes being proposed.