Up-Close … with Anaël Bodwell, co-founder of Youth Action Movement-'Never give up in life, focus on what is important'
02-April-2013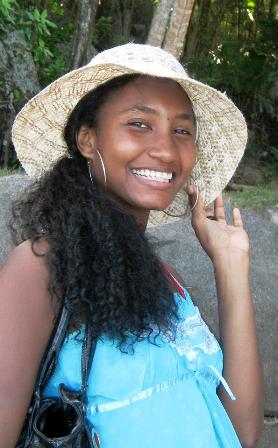 Anaël Bodwell is a young lady who has set her priorities well in advance, at an early stage in her life, as she believes that this is vital to having a fulfilling life.
Her involvement in different groups such as Jj Spirit Foundation, Red Cross Society of Seychelles, Lazenes Lepep, District Youth Committee and her work at the Alliance of Solidarity For the Family (ASFF), has enabled her to see life in a more positive way.
"These groups do not only make me a better person but have allowed me to make other people better individuals as well," she says.
"I have benefited from them in terms of overseas exchanges whereby I've gone through life changing experiences. I have met people who have encouraged me to surpass myself."
Born on August 6, 1992, the ever-determined Anaël has achieved quite a lot at such a young age, among which are two national youth awards for positive image.
At present, Anaël oversees the Youth Action Movement, a group which began with a young determined Ayiel Bonne who wanted to make a difference for the youths of Seychelles.
He represented Seychelles at an international youth conference and brought back the idea of a youth action movement that was already in existence in several other African countries.
Seychelles then joined and it became official on February 25, 2012 and developed from there.
"Today, Youth Action Movement (Yam) has its own page on Facebook, monthly activities, well-established committees and active members in schools, institutions who are devoted to helping their peers. We address all kinds of issues affecting the young people of this country," she says.
Yam involves young people from the age of 10 to 25 years old and is all about sexual and reproductive health. Teen pregnancy, substance abuse, HIV/Aids are all social ills that Yam is trying to overcome.
"What better way to educate a young person than by another youth," says Anaël, who is personally concerned with these problems affecting the young generation.
"Everything I have achieved in life is based on the skills these groups have given me and my way of making a difference is by giving an exemplary image to my fellow youths."
About Anaël
Anse Etoile primary school is where she followed her first eight years of studies then joined her friends at English River secondary before heading to Polytechnic Anse Royale to pursue her post-secondary education.
She spent three years there before getting an advanced diploma in Business Studies and Accounting.
Finance was not the path she wanted to follow. Anaël had journalism in mind while growing up but destiny had other plans for her.
"My dream career was journalism because I love writing, speaking and literacy. I also appreciate the impact that a journalist can bring on the lives of others," she says.
She is now looking forward to achieving much more in the field of accounting after she completes her course at the School of Business Management (formerly known as the Seychelles Institute of Management) within the University of Seychelles.
"My dream changed at the Polytechnic as I grew interested in the world of business and now finance is my main focus."
"With my current studies and experiences, I have learned to become more responsible and have a better perspective on life and I now love Maths," she says.
Anaël started working at the ASFF as a full-time project officer but she is now on a part-time basis after being awarded a scholarship to further her studies at the School of Business Management.
Her work involves working with youths, drafting projects and attending meetings on behalf of ASFF.

"I have many unforgettable moments of my childhood but the most treasured ones are those spent with my family and friends," she says smiling.
As most individuals, Anaël has had her fair share of ups and downs in life.
"I've been through tough life challenges which have helped me to be a stronger person, more determined to be what I want to be."
"I am thankful to my mother for being there, for being a positive figure and inspiration in my life."
Her friends are also a great part of her life.
"I am lucky to have good friends. They have all been supportive and accepted me the way I am. They have made me laugh, given me good advice and they have always been there when I needed them.
"I can rely on them anytime and that is why I see them as my family too."
Role models
"When I look at my mum, I see courage and determination, I see love and she is my greatest motivation in life.
"There are lots of other important women whom I look up to such as the Minister for Labour and Human Resource Development Idith Alexander, Seychelles National Youth Council chief executive Vicky Van Der Westhuizen, Monica Servina, Rosemary Violette, Colette Servina, Penda Choppy and Rasika Basnayake.
"The list is long but I have known them personally and they have inspired me and made a positive impact on my life."
Her beliefs
"I believe in God as He has never left my side in the face of difficulties and I believe that anything is possible with Him.
"I also believe in hard work and determination because this is how we can achieve success in life."
Advice to the youths…
"Never give up in life, focus on what is important and do not let anything lead you off the path you have chosen towards a brighter future.
"I also call on them to get involved, widen their circles and explore alternatives, but do it safely. Strive for knowledge, seek new opportunities and ask questions."
And her final message to the young people of Seychelles is to follow their dreams and be productive towards the society, to set goals and to reach for them.
by Mandy Bertin