Hong Kong another dream holiday and shopping destination waiting to be discovered
06-April-2013
Other than the ministers for Tourism and Culture Alain St Ange, Home Affairs and Transport Joel Morgan who is also the chairperson of the national airline, its chief executive Cramer Ball, high government, tourism and airline officials among other guests, Air Seychelles also invited local journalists to share the experience of discovering this new much-talked about modern Asian tourist and shopping destination.
Indeed a great experience it was even though more time is certainly needed for one to better discover, enjoy and savour all that the glamorous Asian city has to offer.
A former British colony, Hong Kong has a rich and interesting history. It was given back to China in July 1997 when it officially became a special administrative region (SAR) of the People's Republic of China. Even so, Hong Kong maintains its own monetary system. Its currency is the Hong Kong Dollar which is 7.75 to the US dollar.
Today, Hong Kong is a major tourist destination for China's increasingly affluent mainland population. It is also an important hub in East Asia with global connections to many of the world's cities. It is a unique destination that has absorbed people and cultural influences from different places and proudly proclaims itself to be Asia's World City.
Hong Kong has a pleasant climate; its winters are generally very mild. Spring (March-May), summer is humid and hot (June to September), and autumn (September-November/December) have average temperature between 21-24°C. Autumn is said to be a more comfortable season.
Hong Kong has a population of seven million people of which 95 percent is ethnic Chinese and 5 percent from other groups.
Being a former British colony, English is widely spoken in Hong Kong alongside other languages like Chinese, Cantonese and Mandarin.
Therefore language barrier will be no problem for Seychellois visiting Hong Kong.
Getting off the Air Seychelles Airbus A330-200 aircraft's at Hong Kong's International Airport in the morning of Monday March 25 after some 13 hours in the air with only a brief transit stop in Abu Dhabi and four hours ahead of Seychelles time, one is immediately taken aback by all the imposing skyscrapers and expensive shops, hotels and other buildings which adorn the streets leading up to Langham Place Hotel in Mong Kok district in Kowloon, an urban area in Hong Kong where we were to spend the two days.
Following the press conference where Hong Kong, Chinese and other media were able to ask the ministers and airline officials about Air Seychelles and its code share agreement with Etihad, the tourism industry, the economy and seek clarifications on various others issues, ministers Morgan and St Ange were presented with a magazine in which feature stories about Seychelles and the recent 3rd Carnaval International de Victoria.
The magazine SPORTS+TRAVEL, a free bi-monthly publication of which 10,000 copies are printed and distributed to over 200 locations in Hong Kong including tourism and travel agencies, is popular among travellers and adventure seekers. The recent issue was coincidentally released a day before Air Seychelles' inaugural flight landed in Hong Kong.
Its publisher Mario Rosario who was in Seychelles for this year's carnival presented the magazine to the two ministers.
Talking to the press Mr Rosario said; "I really enjoyed being in Seychelles it was fantastic. I loved the food , the people and the carnival was really great with so many colours and different people. It was really wonderful."
Coming back to Hong Kong Mr Rosario wrote about Seychelles and what he saw and experienced here.
"Seychelles is a faraway place but it is a quick destination to get to especially now with the new air link to Hong Kong and I think people here (Hong Kong) need to know about it too," he pointed out.
He said he has no doubt next year Seychelles will have a lot more visitors from this part of the world coming over just for the carnival.
To crown the success of the inaugural flight to Hong Kong, Air Seychelles organised a cocktail to formally thank the Hong Kong and Chinese authorities and all its partners in the aviation and tourism industries and trade sector for working tirelessly to make it all possible and this was held on the evening after the flight touched down. Also during the cocktail the guests were able to pick four business class airline tickets to travel on any Air Seychelles and Etihad network.
All the four lucky winners were from Hong Kong, something Air Seychelles manager for corporate communications Josie Michaud-Payet said the airline welcome as it will give the guests a chance to live the great experience flying on the two airlines.
Discovering Hong Kong
On Tuesday the journalists were treated to a day out to discover Hong Kong organised by the Hong Kong Tourism Board (HKTB).
Led by Wing Lau, a warm and friendly guide from the HKTB, we made our way by bus down Canton Road to the Star Ferry Boat terminal where we boarded a ferry. The Star Ferry carries visitors and locals alike across the short strait between Kowloon and Hong Kong Island.
The Star Ferry trip takes only some 10 minutes and is very cheap costing only a couple of Hong Kong dollars for a single journey but it gives the best view of the Hong Kong skyline even though we were unlucky to enjoy this that day as it was very foggy.
Alighting from the ferry trip Ms Wing showed us some famous buildings and landmarks including the Hong Kong International Financial Centre, the second tallest building with 88 floors which houses the stock exchange and the foot bridge which connects to mostly all buildings in the area.
Back on the bus which had followed us through the tunnel while we took the ferry, our next stop was to the Peak Tram only a few minutes' drive away.
Discovering Hong Kong skyline from the Peak
The Peak, is Hong Kong's most popular attraction providing a large variety of activities which visitors must experience when visiting Hong Kong. It offers some great shopping and dining as well.
"It's the place to experience Hong Kong and buy souvenirs," said Ms Wing.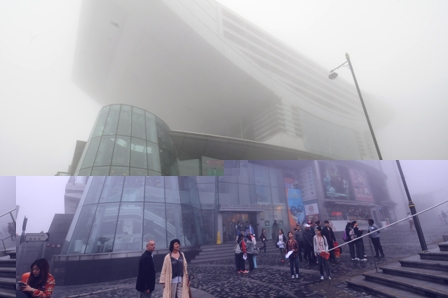 Getting to the Peak by the Peak Tram is an unforgettable experience.
The Peak Tramway is a mountain railway in Hong Kong, which carries both tourists and residents to the upper levels of Hong Kong Island. Running from the Central district to Victoria Peak, it provides the most direct route and offers good views over the harbour and skyscrapers of Hong Kong.
"The most beautiful view of Hong Kong is seen from here and it is spectacular and breathtaking," Ms Lau explained proudly.
But again the fog dampened the excitement of the moment as it obliterated the view which we had come all the way to admire. But in spite of the fog and chilly weather the tram was packed with visitors and reaching the top and entering the Peak Tower with its wok-shaped roof was the most wonderful experience.

Eating in Hong Kong
Lunch at Habibi Restaurant down the Central district was another great experience and we were all overwhelmed by the large amount of food served for one person. Luckily for some of us who eat less, we decided to order a different dish each so we could share thus providing us a chance to taste several dishes at one time.
Alongside the famous McDonald and other popular brand names other restaurants and take-away food stands abound in the city. Many offer the best in local cuisine while others are more international in flavour.
Hong Kong is believed to be the world capital for Cantonese cuisine. Cantonese cooking involves a lot of stir-frying in a wok with very short cooking time to preserve the flavours and nutritious value of the food.
Hong Kong people also love Western food and drinks and we observed that many locals have their meal in fast-food restaurants. Seafood is the next best delicacy in Hong Kong. Noodles are also very common, especially the Cantonese style wonton noodles.
Where to stay in Hong Kong
Choosing somewhere to stay is very easy when planning a holiday or shopping trip to Hong Kong. The internet provides an array of accommodations from five star hotels to other more affordable low costs guest houses of your choice and budget.
AsiaRooms.com Hong Kong and booking.com can easily provide you with details on where you want to stay.
Ms Wing noted that the travel agents can also give the necessary information to prospective travellers
Bookings can be made after directly choosing a hotel from the internet.
Hotels and guesthouses are concentrated on Hong Kong Island and in Kowloon where there are many hotels and shopping streets.
The Hong Kong shopping experience
Shopping in Hong Kong we learnt can be done leisurely when visitors have ample time for that, as most shops remain open until midnight.

Visitors can therefore experience real shopping "without dropping" as they can easily shop, take their shopping back to their hotel, take a rest and come back to shop again with a clear head and in a relaxed atmosphere.
Mong Kok is Hong Kong's most popular shopping district with its neon-lit streets and its numerous shops.
One of Hong Kong's most popular markets, the Ladies' Market, and also an array of shopping streets are found in Mong Kok.
"The Ladies Market is the biggest outdoor market with over 200 shops and is a must visit area when in Hong Kong," Ms Wing explained, saying it is also the place for the greatest bargains.
"Good bargaining can lead up to goods being sold for half or less than the price originally proposed," said Ms Wing.
But again after going around the shops it was clear that this was true but it was a pity we did not have much time to go through all the shops.
Just about everything from household items and electronic gadgets to luxury jewellery, clothes, shoes, bags can be bought in this area.
For those who prefer branded goods Nathan Road with its array of grand boutiques is the place to shop. Langham Place also provides one of the many malls and supermarkets where you can do your shopping in air-conditioned comfort also until very late in the evening.
A Hong Kong shopping experience is really a dream which now with direct air link via Abu Dhabi can easily become a reality for many Seychellois.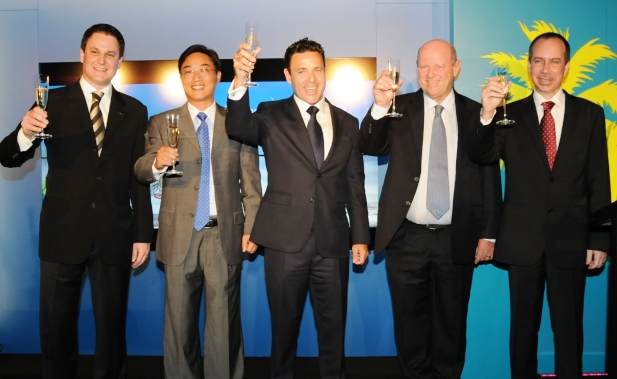 Compiled by : Marie-Anne Lepathy
Photos: Joena Bonnelamme