School of Advanced Level Studies graduation ceremony-Kavinia Karunakaran wins seven prizes
06-April-2013
The graduation ceremony took place at the International Conference Centre of Seychelles (ICCS) yesterday afternoon in the presence of Vice-President Danny Faure, Minister for Education Macsuzy Mondon, ministers, principal secretaries, members of the National Assembly, students, lecturers and parents.
A total of 130 students successfully completed their A-Level courses and were presented with their certificates by education principal secretary Merida Delcy, and Sals acting principal Hervey Young.
In his opening speech, Mr Young said: "I would like to address in particular the graduate students. The art of success in life is to choose a career and concentrate on it with your whole might, and do so wholeheartedly. Work and continue to work because only work relieves us of all our problems."
The best performers in each subject were presented with a certificate and a prize. The recipients are Kavinia Karunakaran (Biology, Chemistry, Mathematics, and Physics), Virginie Hoareau (Business Studies), Franca Sicobo (Economics and English Literature), Mariama Diallo (French), Charlotte Nicette (Geography), Dericka Figaro (History), and Virginie Quatre (Sociology).
The academic excellence awards were presented to Kavinia Karunakaran and Stephanie Cadeau, who scored straight 'A's in all their subjects. They also received a cash prize.
The Minister's Cup and Gold Cup Award were both given to Kavinia Karunakaran, who excelled in all the A-Level examinations as well as in all components of the subjects studied.
The President's Cup was awarded to Jean-Francois Figaro, who excelled both in his studies and extra-curricular activities. He was presented with a certificate, a trophy, a laptop and a cash prize by Vice-President Danny Faure.
Mr Figaro said the past two years had been very interesting and challenging. "It was by no means easy, and there were times I had to burn the midnight oil to get through the work, but it was all worth it in the end," he said.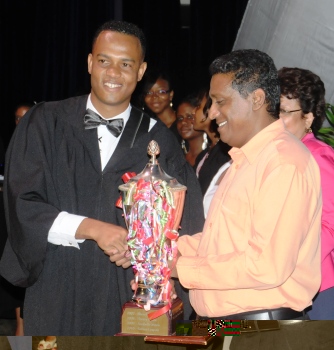 Kavinia Karunakaran was thrilled with her accolades, which altogether were almost too heavy for the diminutive 19-year-old to hold by herself.
"I am very happy and very proud. At the same time though, I am sad that I won't be seeing my friends anymore," she said.
Ms Karunakaran said the secret to her success was obvious: "Of course, I worked very hard. If there was something I couldn't understand, I asked questions and did research so that I could understand it."
As for the next step, Ms Karunakaran said it is her aim to become a doctor. "I am in the process of applying to various universities, so we will see what happens next."