Vallée de Mai celebrates 30 years as world heritage site
08-April-2013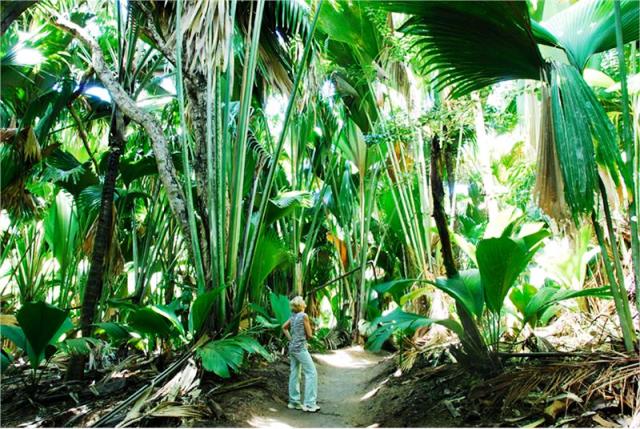 The reserve will be celebrating its anniversary in December this year, and the symposium is the first activity to be held among several others which will lead to the main event.
The symposium was held at the Seychelles Trading Company's conference room and was attended by the Minister for Environment and Energy Professor Rolph Payet, SIF's chief executive Dr Frauke Fleischer-Dogley, representatives of key departments and organisations concerned with the environment and its conservation.
A number of projects and researches are being carried out in the reserve and latest information and findings were shared with those who took part in the symposium.
It has been seen that the reserve has been overshadowed by Aldabra – Seychelles' other world heritage site – so as a new move, a scientific programme started in 2009 to allow the Vallée de Mai to be better recognised.
Ongoing projects in the reserve include black parrot work, herbarium project, frog survey, invasive alien species surveys and the coco de mer research.
Topics covered during the symposium included the rangers' work in the reserve, invasive species, revealing the latest secrets of the coco de mer nut, the super sooglossid frogs and the black parrot.
The SIF is aiming to get more people to be interested in the Vallée de Mai and understand its importance to the country.
Other activities this year will help to bring more awareness on the need to conserve and protect the reserve.
Activities will be held on Praslin as the island is considered the guardian of the reserve. School children, tourists and members of the public in general will all be included in these activities.
In his short address, Professor Payet commended the work being done by the SIF.
He called on the scientists present to help train environmental scientists pursuing their studies at the University of Seychelles, as it is this generation who will face the challenges of managing our environment.
Dr Fleischer-Dogley said the SIF will continue to carry out research in the reserve as there is a need to know more about various aspects such as invasive species and other threats.