Tennis-Seven teams register for Vijay league
10-April-2013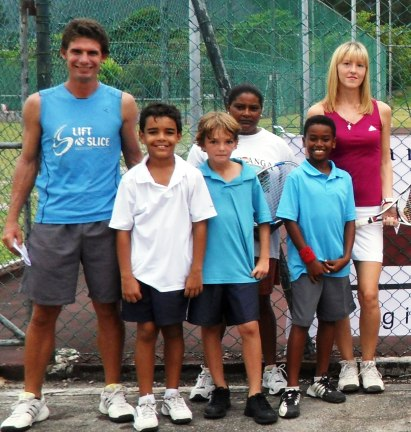 The first match on Friday is at 5pm between Bonzour and Friends. On Saturday April 13, Club 2000 will be up against Spitfire.
Lift & Slice are the Vijay league defending champions after finishing ahead of Spitfire captained by Antoine Hip Waye.
Comprising three of the country's best junior tennis players – Damien Laporte, Shaun Andriamaro and Theo Barois – French coach Frederic Canale as captain and female players Marie-May Isnard and Tania Solovieva, the Lift & Slice team beat Spitfire 3-2 in last year's final to be crowned champions.
Club 2000 finished third, Academy fourth, Eden Island fifth and Rotary sixth.
Each fixture comprises five matches – two men's singles, one women's singles, one men's doubles and one mixed doubles. Teams fight for five points each time they are in action and the competition will be played on a two-leg round robin format.
The following are the composition of the teams.
Topspin – Clyvie Delpech (captain), Sylvester Delpech, Garry Albert, Xavier Euquem, Selwyn Hoareau and Christie Delpech.
Lift & Slice – Titouan Roquain (captain), Damien Laporte, Shaun Andriamaro, Theo Barois, Marie-May Isnard and Tania Soloviera.
Spitfire – Antoine Hip Waye (captain), Steven Rideau-Mein, Bernard Mein, Didier Hurloll, Valerie, and Thara Hoareau.
Club 2000 – Selwyn Lespoire (captain), Selwyn Knowles, Maxwell Fock Tave, Marlon Orr, Sarah Rene and Ginette York.
Eden – Zoltan Sugar (captain), Vernon Vogt, Ruslan Panasovskyi, Joan, Fatime Kanté and Pene Vogt
Bonzour – Philip Brioche (captain), Antonio Sequenzia, Stephan Romain, Daryl Nourrice, Eugenia Zanarini.
Friends – Lineda Samson (captain), Gino Francourt, Shane Pothin, Andre Hissen, Denzel Laporte and Peggy Chang Tave.