114 graduate in business studies, accounting and visual arts
12-April-2013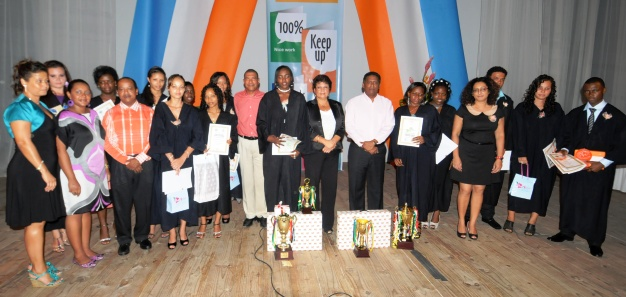 They received the trophies from Vice-President Danny Faure at the University of Seychelles' auditorium in the presence of Minister for Education Macsuzy Mondon, Minister for Tourism and Culture Alain St Ange, leader of the opposition in the National Assembly David Pierre and other members of the National Assembly.
Also there were principal secretaries, other high government officials, director of Visual Arts School Christine Payet and that of Business Studies and Accounting Josianne Bristol, parents, staff of the two schools and sponsors.
The two outstanding students were among the 114 graduates who received their certificates after completing courses at diploma, advanced diploma and advanced certificate levels.
In her address, Mrs Payet said in its endeavour to provide and promote quality education and training, the Visual Arts School will soon introduce new courses and programmes on both part-time and full time basis.
"Our ultimate goal is to train the young people and re-skill the existing workforce to become self-sufficient and economically independent citizens," she said.
She added that the two institutions are in the process of finalising their strategic plans for the three years ahead.
Mrs Payet said this will pave the way forward with regard to course and service delivery, financial viability, linkages with partners, the community and institutions of higher learning.
Both schools are working closely with the Seychelles Qualifications Authority to obtain full validation of the courses on offer and the accreditation of the institutions by the end of June this year.
Students who excelled in their respective courses at both institutions were also rewarded.
At advanced certificate level, the best performers from Visual Arts School were Heidy Victor in fine arts, Ryan Ernesta in graphic design, Alice Bonaparte in textile and Stephanie Augustin in fashion.
Herve Dine won the prize for best performer for A-Level GCE Cambridge Art exam and he was also the best performer at diploma level in fine art.
Other best performers at diploma level were Marie-Antoinette Robert in graphic design, Lisa Hoareau in textile and Elsa Savy in fashion.
For advanced diploma in Business Studies and Accounting Sabrina Larue won prizes for being the outstanding performer while Mina Accouche was rewarded as the best performer.
Hazel Renaud who followed courses at advanced diploma in office management and administration won the City and Guilds shield.
Nadine Confait, who graduated in business and accounting at advanced diploma level won the Association of Accounting Technicians (AAT) shield.