Farmers harvest prizes at workshop
13-April-2013
She was the luckiest of the winners in a series of draws during a two-day conference organised by the company at the International Conference Centre on Wednesday and Thursday to give the farmers new skills on how management techniques can improve production of livestock and thus increase the breeders' profits.
Every one of the nearly 100 delegates got a prize, the other major ones being gift vouchers, the R1,500 ones being won by David Essack and Santaley Mathurin; the R2,500 vouchers by Garry Coopoosamy and Norbert Naidoo and R3,500 ones by Marie Claude Louise and Andre Payet.
Natural Resources and Industry Minister Peter Sinon attended both conferences where he expressed his appreciation for the initiative taken by the LFL to host such an important conference to support breeders in the country.
"I really like the approach LFL took. We always say that Mauritius is our big brother and indeed in this field, you are our brother. With such initiatives from the private sector we are set to revive our agricultural and farming sector," said the minister.
Trainers included LFL nutritionist Olivier Mailfert and Robert Soupe from Avipro.
Daniel Planchenault of France's animal feed producer Glon Sanders also travelled to Seychelles for the conference.
LFL manager Christophe Noel said the company is happy to help Seychellois farmers: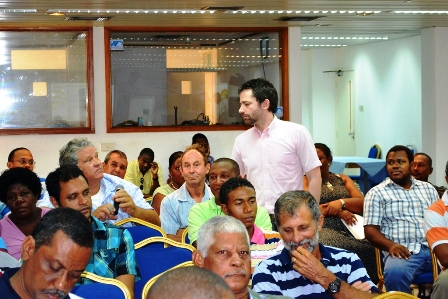 "We came to meet you all and we understand your challenges better now. We assure you we will assist the Seychellois breeder community to optimise your livestock and ensure there is adequate supply of feed in the island."
The LFL delegation visited some of the farmers.
Mahe Distributors is the local supplier of LFL feed products in Seychelles.
The breeders thanked the team for the new skills they taught them and expressed hope that similar initiatives and possible future exchanges will be considered.