New Seychellois company takes over La Réserve hotel
13-April-2013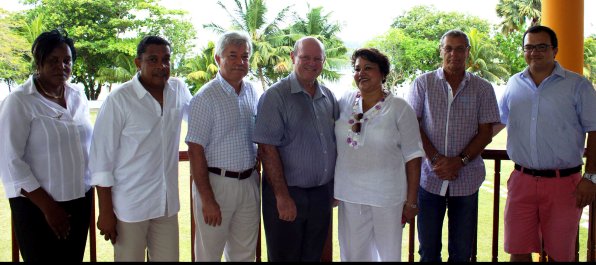 The property, owned for the past 35 years by Jenny Pommeroy and her family, has been sold to a Seychellois investor – the Anse Petit Court Pty Ltd headed by Joseph Albert.
La Réserve hotel became operational in 1980 with four beachside bungalows. The property has been expanded and successfully rebuilt to become a benchmark – one of Seychelles' most reputed tourism establishments.
With 42 bungalows, La Réserve hotel under the management of its owner Mrs Pommeroy, has propelled its services and products to become one of Seychelles' world class tourism resorts.
This week at a meeting on Praslin in the presence of Tourism and Culture Minister Alain St Ange, it was confirmed that after 35 years, Mrs Pommeroy is now passing on her exclusive hotel to a dynamic team of Seychellois investors who are already known in the world of tourism.
Mrs Pommeroy said that the time is right to hand over the ownership of La Réserve hotel on to another Seychellois company capable of moving the establishment forward, enabling it to remain a lead hotel of Seychelles in the same way as she has worked tirelessly to uphold.
"With my children we have taken the property to where it is today. Both my son and daughter now want to venture into their own businesses. I want to give them this opportunity to build their own creation. We've decided to sell the property and venture into a boutique family café & bakery. La Réserve has for many years earned the reputation for baking the finest bread on the island. We are the main supplier of bread being sold on the island. We will now have a purposely built and bigger bakery & café at Grand Anse on Praslin and do what we do best,'' said Mrs Pommeroy.
Under the new management team, La Réserve hotel will now be called 'Le Domaine de La Réserve' and become the sister hotel of 'Le Domaine de L'Orangeraie' of La Digue.
Mr Albert, known to his friends in the tourism industry as Joe, is a shareholder of Anse Petit Court Pty Ltd and also a shareholder of Anse Sévère Pty Ltd, the company owning 'Le Domaine de L'Orangeraie'.
He said that the new management will "consolidate the achievements of La Réserve hotel, and work to take it to new heights".
"The hotel is a wonderful place with lovely architecture situated in the national park. The site is spectacular and the basics are there. We now need to build our team, create the needed synergy as part of our group of exceptional hotels, and work to increase its popularity through a new promotional drive," said Mr Albert.
Minister St Ange has thanked Mrs Pommeroy for her 35 years of devotion to the Seychelles tourism industry, and congratulated both Mr Albert and his Anse Petit Court Pty Ltd for becoming the next Seychellois owners to manage this much-sought-after establishment.
Minister St Ange said that it is worth commending Mrs Pommeroy for holding out with her sale until she found a Seychellois buyer and ensure that La Réserve remains a Seychellois-owned hotel.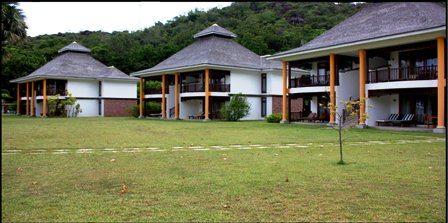 "The Pommeroys as owners of La Réserve wanted to move on. We need to recognise that Mrs Pommeroy has made a positive contribution to the Seychelles tourism industry. We also thank her for selling the property to another Seychellois. La Réserve hotel is a good example of a Seychelles hotel, and for Praslin it is important that this unique property remains in the hands of a Seychellois," noted Minister St Ange.
Mrs Pommeroy said she will give her long-time management team a trip to Mauritius as a special treat to thank them for their hard work and devotion.
The change in management will take effect on May 1, 2013 with Jean-Paul Barallon coming in as the new general manager.