Handball: Mohan league-Title challengers march on
15-April-2013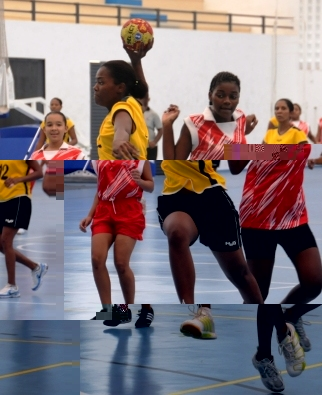 Women's defending champions Mont Fleuri Storm powered past RC Diamond on a 69-30 score (half-time 12-5) on Saturday at the Palais des Sports.
Members of the Mont Fleuri Storm team who won the Challenge Cup and curtain-raiser title earlier in the season, Marie-Claire Chetty and Natalie Samynadin were the game's joint-top scorers with 16 goals apiece.
Jacqueline Bastienne and Vicky Delpeche netted four goals each for RC Diamond.

Losers to Mont Fleuri Storm in both the Challenge Cup and curtain-raiser competition, Au Cap Sisters, formerly Royal Queens, earned a 32-15 victory (half-time 25-7) against APC Sisters.

Audrey Sauzier had nine goals for Au Cap Sisters, while Clara Esparon and Rouma Agricole also got nine goals apiece for APC Sisters.
In the men's league, Challenge Cup winners AC Brothers, whose two-victory run was stopped by Durantha Brothers who edged them 32-33 in their previous league match, rebounded from defeat on Saturday.
They overcame a two-goal half-time deficit of 11-13 to outscore Young Eagles 23-14 in the second period for a 34-27 win.
Leeroy Samedi was AC Brothers' and the game's top marksman with 14 goals, while 2011 player of the year Leeroy Laure led Young Eagles with 10 goals.
In another men's match played on Friday at the same venue, PLS Hurricanes posted a 44-23 victory over Juniors.
In this coming Saturday's women's matches at the Palais des Sports, Mont Fleuri Storm will play Teenz at 11.30am and Juniors will meet Au Cap Sisters at 3pm.
In the men's league on the same day and at the same venue, Durantha Brothers will face PLS Hurricanes at 1pm and Super 8 will clash with Juniors at 4.30pm.
G. G.