Swimming: Middle distance meet-Young swimmers showcase their abilities
18-April-2013
The competition featured a number of young swimmers who battled against each other to claim victories.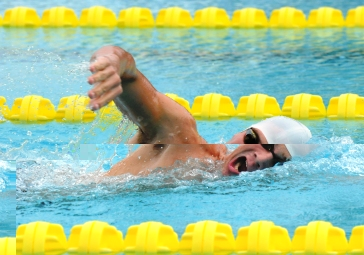 In the boys' 14 years and over 800m freestyle race, reigning male swimmer of the year Adam Viktora took first place with a time of 10 minutes 06.27 seconds (10:06.27). Dean Hoffman followed in second place (10:30.90s) and Luke Bonnelame (10:33.55s) third.
In the same event for the ladies, Felicity Passon dominated with a time of 10:34.64, way
ahead of second-placed Zoe Barois (12:10.61) and third-placed Clara Omath (12:27.18).

Siblings Hayden and Lenel Ah-Wan dominated the boys' 11-13 years 400m freestyle event. Hayden took first place clocking a time of 5:25.22, almost nine seconds ahead of his brother Lenel (5:33.72s). Samuele Rossi came in third with a time of 6:15.72s.

For the girls, it was Nicole Grasselli Barni who was first with a time of 5:54.22 followed closely by Sophie Bouchereau (5:57.80). Third place was taken by Valentina Rigamonti with a time of 7:02.55.
For the younger swimmers aged 10 years and below, they took part in the 200m freestyle. In the girls' category, Therese Soukoup finished first with a time of 3:27.32s ahead of Charlotte Passon (3:51.93) and Shana Mohammed (4:21.56).
Damien Payet took victory among the boys in a time of 3:18:42. He was followed by Joshua Miller (3:43.80) in second place and Daniel Ferley clocked a time of 4:10.63 for third place.
S. N.