Double achievement for Photo Eden's Phyllis Confait
20-April-2013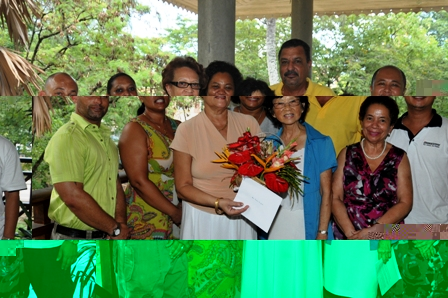 Nor can anyone say that they know of Photo Eden without knowing Mrs Confait.
A special lunch was held earlier this week at the L'Alliance Française restaurant in Mrs Confait's honour as she celebrated two milestones in her life. She turned 63 on Easter Saturday (March 30) and also clocked 41 years as an employee at Photo Eden.
Surrounded by friends and colleagues, Mrs Confait was presented with a bouquet of flowers and a special prize inside an envelope.
The managing director of Photo Eden, Julie Fayon, thanked Mrs Confait for her ongoing great performance and said she is one of the pillars of the company.
"Phyllis has witnessed all the technological developments in the photographic business in Seychelles. From analogue to digital, from black and white to colour, she has seen it all, and worked with it all. She has earned the trust of her customers who have come to know her personally," she said.
Mrs Confait joined Photo Eden in January 1972, after she came back to Seychelles from a three-year stint in Liban.
"When I got back to Seychelles from Liban, I worked for one year as a sales person at a shop in town but wanted to do something related to tourism. So when I heard that Mr Marcel Fayon had opened Photo Eden, I tried my luck and was successful in my interview, and so I started there as a sales assistant on January 2, 1972," she recalled.
"At that time, the shop was located at Michel Building in the corner of the then Royal Street and Quincy Street, and the airport had just opened and tourists had started coming in. We sold high-quality cameras: Nikon, Asahi, Pentaz, Minolta and so on and our processing lab was upstairs. From there we later moved to the Pirates Arms building where we are still located today."
Today, Mrs Confait is the Photo Eden shop manageress and is a mother of four daughters. She says she is not yet ready to retire and feels that she is able to work for many more years to come.
"I started out as knowing nothing about photography, and I have learnt so much over the years. My biggest feeling of achievement is when I have sold a digital camera to a client and I know that he/she is going to capture many moments on it for life, and that makes me happy," she said.
She says she also enjoys showing the shop's old cameras to clients, such as their oldest – the Nikos 5.