'Keeping addicts off the streets a vital investment'
22-April-2013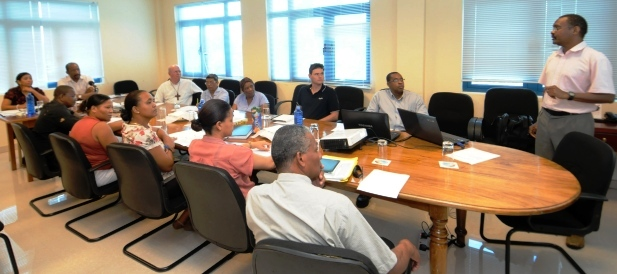 Rehabilitation service providers and government officials have resolved to work together to find more ways to help those who are serious about getting clean, such as setting up a halfway house for outpatients and looking at alternatives for detox treatments.
The Minister for Social Affairs, Community Development and Sports Vincent Meriton and the principal secretary for social development Linda William-Melanie, recently met rehabilitation service providers, faith-based organisations and representatives from the Small Enterprise Promotion Agency (Senpa) and the Ministry of Labour and Human Resources Development to come up with an integrated and comprehensive rehabilitation plan for dealing with the ever-rising social problems associated with drug addiction in Seychelles.
Robert Moumou, programme director at the Mont Royal centre for drug rehabilitation, said that often people receiving treatment for addiction were often too quick to leave rehab because of personal and financial pressures.
The organisations present also confirmed the urgent need for a halfway house to shelter patients who had been released from the Wellness Centre, as many of the patients have nowhere to go and soon end up back on the streets using drugs.
Minister Meriton said the goal was to stabilise and rehabilitate individuals with support from their families and help from either Senpa to set up a small business or from the department of labour to find them employment, and said the plan needed to incorporate these essential elements in order to ensure the addicts' re-integration into society.
Discussing the growing problem of addicted mothers abandoning their babies and subjecting their children to neglect and abuse, Ms William-Melanie said a plan to compel mothers to receive treatment for drug addiction should be included in the framework.
"We also need volunteers to help look after these children, either through fostering or adoption, as the President's Village is already full with children who have had to be removed from their homes because of neglect," said Mrs William-Melanie.
Minister Meriton said government and civil society's efforts to rid Seychelles of the scourge of drug abuse formed part of the wider renesans sosyal initiative to address the social challenges affecting the country and said that although the challenges seemed daunting, the willingness to make a difference was there.
"There is a lot of work to be done here, I think we all agree. Human rights, I think it is relative, but whatever we plan to do is within the norms of the Constitution and the law. It is for the protection of that individual that we act when he or she is not taking the necessary care of him- or herself," said the minister.

"We are dealing with the symptoms of development, some of us are victims, and some of us have benefitted from it. Development has become globalised, and we bear the brunt as a small country."
Minister Meriton said he would also be meeting the National Arts Council soon to discuss the possibility of encouraging more young artists to create songs with a positive message.
"We are meeting the musicians because there are so many songs out there that advocate hate, drug use, violence and sexual brutality, and young people are affected negatively when they hear these songs," added Minister Meriton.
The department of social affairs plans to present the framework as a memorandum to the Cabinet and after consultation with the Ministry of Health and other role players, to get the memorandum presented as a piece of legislation in the National Assembly within the next six months.