Penlac develops new paint range for humid conditions
22-April-2013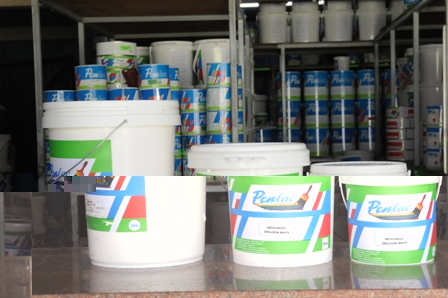 "The anti-fungal range is ideal for both coastal areas and mountainous regions such as La Misère and Sans Soucis," says Nixon Albert, sales and marketing manager at Penlac.
"We have tested the product rigorously and since its release in November last year we have had really positive feedback from our customers."
Another new product developed by Penlac is a two-pack acrylic undercoat paint in addition to its epoxy undercoat. The acrylic undercoat is ideal for use on metal, aluminium, fibreglass and on cement substrates such as plaster, concrete and building blocks and also on panel wood, ceiling boards, and suitably primed interior wood structures.
The acrylic undercoat is easy to apply and dries rapidly to a hard, tough and washable mat finish. It is a surprisingly light product which makes it easier for sanding and for surface preparation. As it is an undercoat, customers are expected to apply a two-pack enamel paint on top of it.
Managing director, Gafoor Yakub, says most of Penlac's tried and tested formulations go back a long way. "But this anti-fungus paint we developed only recently in late 2012 with the help of an experienced chemist, just trying to get it right. As you know, there is an abundance of red and green algae in the Seychelles, so we have tried to address that problem by finding the perfect formula for an anti-fungal paint."
Mr Yakub is very pleased that the anti-fungal range was developed especially for Seychelles by his local company. "All my staff members are Seychellois," he says. "We have done this together through good cooperation and teamwork."
"The beauty of this paint is that the next day after painting you can occupy the room – you won't experience any negative effects from paint fumes, although for children's bedrooms we would recommend waiting a few days longer to be on the safe side. But all our paints are suitable for children's rooms and classrooms because they are all lead and mercury free."
Mr Yakub warns that other paint products being imported from India and/or China may well contain potentially harmful ingredients which are especially dangerous to the environment and to the health of children. "Our products don't because we have developed our paint with environmentally-friendly technology."
H.A.