Cycling: 97km road race-Dominique Arrisol leads Eco's one-two-three finish
23-April-2013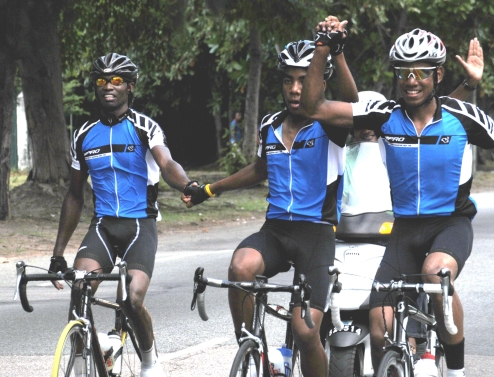 All three were credited with the same time of 2 hours 54 minutes 58 seconds (2h54:58) to also win the team title with a combined time of 8h44:54.
Dominique Arrisol, who competed on a bicycle mounted at the last minute after his team could not get his new bike on the road for the race after not getting clearance on time last Friday from the authorities, said the race was OK and very competitive.
"We have a very dynamic team and we expect more good results in the future," Arrisol told Sports Nation.
Teammate Louis, who won race number six – a 90-lap Victoria criterium on Independence Avenue in a time of 1h41:45 – took the opportunity to call on other youngsters to take up sports.
"We want to inspire other youngsters to take up a sport. Do away with drugs and alcohol, come join us," said team captain Louis.
Journey cycling club's Peter Alphonse and Ahmad Arrisol followed in fourth and fifth position in the same time of 2h59:36.
The new generation of riders have since the start of the season been providing exciting spectacles for those who follow cycling closely and people who like watching from the roadsides.
In his first race this season, veteran Brian Sinon of Strong Riders finished sixth in 3h05:26.
Seven other riders completed the distance: Ricky Rosalie (St Francis, seventh in 3h05:27), Mario Joubert, Journey, eighth in 3h10:38), Andy Rose (St Francis, ninth in 3h16:06), Edward Pothin (St Francis, 10th in 3h16:06), Raoul Gomme (Eco, 11th in 3h21:43), Oscar Constance (Eco, 12th in 3h23:53), and Philip Malvina (Journey, 13th in 3h50:04).
Eco's Richard Felix could not complete the distance.
Journey were second in the team ranking with a time of 9h09:50 and St Francis finished third in 9h37:39.
G. G.