First National Aids Council meeting for 2013 -Council adopts two key reports on HIV/Aids
24-April-2013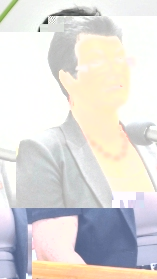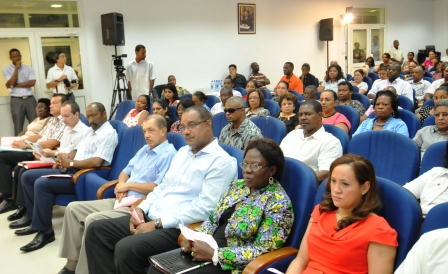 Minister Larue addressing the audience at the meeting yesterday
President James Michel, who is also the chairman of the National Aids Council, was present at the Sheikh Khalifa diagnostic centre's conference room yesterday morning when a summary of the reports were presented.
Among the guests were Speaker of the National Assembly Dr Patrick Herminie, Attorney General Rony Govinden, cabinet ministers, and other high government officials.
Also present was the United Nations Population Fund representative for Madagascar, Mauritius, Comoros and Seychelles Dr Agathe Lawson.
The two reports will also give the ministry more updated information to work with and allow it to align its strategies accordingly, while at the same time assess how existing laws and regulations support or undermine effective HIV response in the country.
One of the reports was based on knowledge, attitudes, practice and behaviour (KAPB) and the other on the legal environment assessment of HIV and Aids. Both reports will lead the Ministry of Health in the development of evidence-based programmes for the next five years.
Addressing the guests, Health Minister Mitcy Larue said in re-looking at their strategies, more work was needed to update their documents, which would bring a more direct, more cost-effective and more result-oriented route to achieving the aims of the ministry's strategic plans.
"Twenty years ago, we had little to offer people living with and vulnerable to HIV. There was no treatment and little funding for Aids. There was widespread denial, instead of political commitment.
Today we are halfway to halting and reversing this epidemic. There is more political commitment, more domestic funds to HIV, and some donors have remained solid in their commitment," she said.
"In the background of this exercise, statistics demonstrate, beyond any doubt, that HIV and Aids continue to be a significant health and social problem in our country. At an average of 40 new infections per year, the infection rate is a major concern to us as it is considered too high for our small country."
The reports prepared by local consultants Benjamin Vel and Iris Carolus in collaboration with international ones, were summarised in a presentation to the audience, with Mrs Carolus' report presented by Khalyaan Karunakaran in her absence.
Mr Vel's report is based on findings of the integrated behavioural and biological surveillance survey conducted in Seychelles in 2012.
Among the points in Mr Vel's KAPB summary are that there is a low prevalence in the general population, while stigma and discrimination as well as ignorance about HIV/Aids are still at unacceptable levels.
He pointed out that radio and television are the best forms of advocacy and that non-governmental organisations have weak presence and impact.
In his presentation, Mr Vel has recommended more targeted information, education and communication strategies, addressing the mistrust regarding confidentiality of tests and results of tests, and health professionals, promoting more the female condoms, and finding more ways to promote the use of condoms.
In Mrs Carolus' summary of the situational analysis of the legal and regulatory framework of HIV and Aids in Seychelles, it is stated that HIV and Aids are not specifically listed as protected grounds for non-discrimination in the Constitution, nor is there specific HIV and Aids legislation in Seychelles.
And although a comprehensive analysis of the Seychellois legal and regulatory framework for HIV and Aids has not been conducted, various legal and human rights challenges have previously been identified.
It recommended that various measures should be taken to strengthen access to justice and law enforcement. This includes the strengthening of stigma and discrimination campaigns; law and human rights information on existing and new laws; education and training for all, including key populations and key service providers such as health workers; strengthening legal support services and mechanisms for enforcing HIV-related human rights complaints and redress mechanisms and sensitising lawmakers, judicial officers and law enforcers on HIV, law and human rights.
After a short question-and-discussion session, the majority of people present voted in the adoption of the reports, with a number of those present calling for more concrete and tangible actions in the fight against HIV/Aids.