Migration to modern banking methods essential to bringing down costs
25-April-2013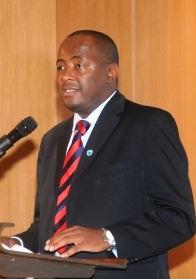 Mr Bungane addressing delegates at the meeting on Tuesday
The regional banking head was in Seychelles for a workshop on Barclays' 'One Africa' project, which was held at the Constance Ephelia resort on Tuesday.
Barclays is combining its operations in Africa to standardise its business operations across the continent. The bank's 'One Africa' project is expected to lead to the merger of its subsidiary, Absa Group Limited, and banking operations in five countries, namely Ghana, Botswana, Tanzania, Zambia and Kenya, as well as South Africa.
"We are proud of having been the first with many things in this market," said Mr Bungane. "We introduced the first internet banking, the first ATMs, and the ATMs in this market actually have no fees attached to using them. Those are modern channels of doing banking in this sector that if our clients and customers would adopt them they would move away from expensive channels of banking into the cutting edge of banking, and that is a lot cheaper, a lot safer and a lot more convenient."
The managing director of Barclays Seychelles, Rakesh Jha, added that a variety of modern banking channels have been made available to the public, including internet banking, telephone banking, SMS alerts and ATMs.
"One of our biggest challenges is coming from the fact that our services were being designed in a manner to ensure that our customers adopt the more technologically-friendly approach of banking. That's why we invested a lot into our ATMs," said Mr Jha.
"The expectation was that customers will start adopting these channels for them to be able to bank more efficiently and effectively. However, our experience shows that the customers still prefer to use the traditional methods of banking and it continues to add pressure on the branches."
"For example, if you visit the main branch, you will see that at around 8.25am you will probably not be able to enter the bank, because there's a whole lot of people waiting to get inside the bank, trying to withdraw R100 or R200 from their accounts."
Mr Jha said the main challenge that remained for Barclays Seychelles was to migrate customers from the traditional ways of banking to the electronic methods, thereby freeing up the space and time for the bank to be able to focus on transactions which require manual banking.
"Increasingly, I think the focus will be on how to migrate customers to the electronic side so that transactions can happen seamlessly without any manual intervention at all. As the percentages of electronic users increase you will find that the frustration that the customers undergo will be reduced dramatically and that is what we're aiming for."
Mr Jha also said that Barclays was investing in developing course modules tailored specifically towards banking at the University of Seychelles and other post-secondary institutions to increase the number of Seychellois qualified to work in the banking sector, which would be a more sustainable and affordable way to hire staff.
Mr Bungane added that service is one of the four key values that Barclays tries to differentiate themselves by across the group.
"It gives us an ideal that we continue to strive to get better at and we don't just want to continue to be the largest bank by market share in this market, we want to be the best bank, as experienced by our clients. In terms of staff training, we will actually be doing it every quarter so that we raise the level of client responsiveness from our people and the service ethic to the kind of standard that resembles what we mean by service excellence," Mr Bungane said.
"We are not going to be able to take the cost of services or improve our customer's experiences unless we can move them from their traditional ways of interacting with us to the new channels we have made available for them that are more convenient, cheaper and much better distributed for them."