University of Seychelles-180 graduate in local and international courses
27-April-2013
The graduates from the former SIM completed their studies just before the merger of the institute and the UniSey while those from the ICT centre are the first cohort who has successfully completed an international course.
They received their certificates during a ceremony held at the university's auditorium at Anse Royale yesterday in the presence of Vice-President Danny Faure, Designated Minister Vincent Meriton, Chief Justice Fredrick Egonda-Ntende, ministers, UniSey's vice-chancellor Marina Confait and pro-vice-chancellor Lucy Athanasius, other high government officials and sponsors.
During the ceremony, awards were given to the best performers in the various courses and two prestigious awards were presented to outstanding graduates.
Vice-President Faure presented Marie-Paule Hetimier, who followed a course in certificate in public procurement, with the President's Cup while Angele Low received the Guy Morel Award.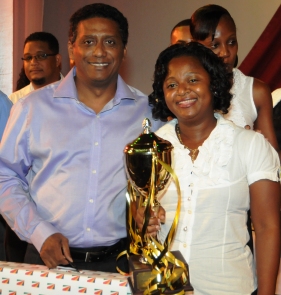 The award, which honours the founder of the former Seychelles Institute of Management Guy Morel, aims to reward the efforts of individuals in the accounting and finance sectors who are making, and who want to make strides in professional self-development.
The best performers in the various courses were Dane De Commarmond in the introductory certificate in entrepreneurship skills for small business, Petra Javotte in certificate in public procurement, Josette Adeline in general management, Anne-Marie Julie in certificate in office management, Peggy Lucas in certificate in human resource management and Kisnan Tamatave in diploma in management.
For the international courses the best performers were Thusitha Serasinghe in CISCO certified entry network technician certification, Travis Laira in CompTIA A+ certification, Rodney Payet in CompTIA network+ certification and Alain Madeleine in professional diploma in information technology and infrastructure.
Other best performers were Valerie Hoareau in Association of Business Executives (ABE) level 4 diploma in business management, Veroniqua Vidot in ABE level 4 in marketing management and Sarah Romain in Chartered Institute of Marketing professional diploma in marketing.
For the Association of Chartered Certified Accountants (ACCA) introductory certificate in financial and management accounting Andy Julie was the best performer.
Others were Deborah Ah-Wan in ACCA intermediate certificate in financial and management accounting, Siddhanth Mathur in ACCA in diploma in accounting and business, Emma Valentin in ACCA advanced diploma in accounting and business and Astride Tamatave in ACCA professional level.
In her opening speech, Mrs Confait said the merger of SIM and the university brings significant opportunities and benefits for the development and expansion of tertiary education and professional development nationally.
"We urge employers to choose UniSey courses for staff training and development as well as consultancy work to build their human resource capacity," she said.
Mrs Confait also called on employees with experience to enrol on the courses to attain formal qualifications which are essential for one's career progression.
To the graduates, she called on them to chart their own route based on their values, interest and hard work, to avoid the conventional path and to embrace challenges.