Social renaissance corner-Cartoon hero Zak joins social renaissance campaign
27-April-2013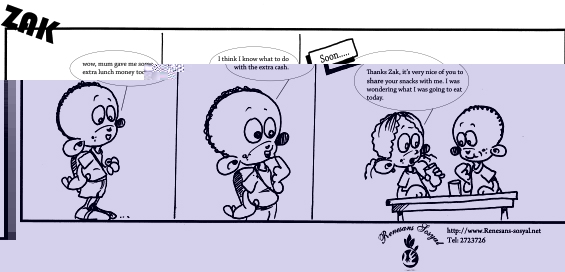 Created by Peter Lalande, Zak will be appearing in the Family & Parenting page every Saturday with words of reflection on a wide range of issues relevant to instilling positive values in children.
Many will remember Zak promoting awareness on environmental issues in the first two editions of the Zak book.
The latest book, entitled 'The Zombie Maker' and which was launched at the Anse Boileau school earlier this year, saw Zak fighting a group of drug traffickers who are ruining the lives of his friends.
The aim of this book is to help focus children's attention on the dangers of drug abuse that surrounds them in their communities on a daily basis.
Children are an important target group of the social renaissance plan of action currently being implemented. It is hoped that the Zak cartoon will prove to be a popular feature of the Saturday edition of Seychelles Nation newspaper and children will take his messages onboard.