New military aircraft to boost maritime patrol
29-April-2013


It is to be recalled that the plane was handed over the Seychelles Government by India's defence minister A.K. Anthony in Delhi in February this year.
It arrived in the country on Saturday to a welcoming ceremony held at the Seychelles Air Force (SAF) hangar in the presence of President James Michel, Vice-President Danny Faure, Chief Justice Fredrick Egonda-Ntende, ministers, Chief of Defence Forces Brigadier Leopold Payet, and deputy speaker of the National Assembly André Pool.
Others present were high government officials, the high commissioner of India Thanglura Darlong, commanding officer of the SAF Major Michael Pouponneau and officers of the SAF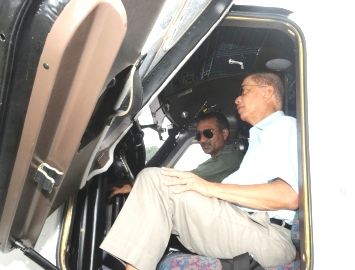 as well as Indian navy officials who are helping to patrol the Seychelles EEZ.
The Dornier military aircraft was built at Hindustan Aeronautics, Bangalore India.
While it was being constructed, the government of India deployed an in-service Dornier aircraft from its own fleet to Seychelles to carry out maritime surveillance.
During President Michel's state visit to India in June 2010, the Indian government also pledged a US $5 million defence grant to Seychelles.
In his opening speech, Mr Pouponneau said the induction of the aircraft will allow the SAF to increase its patrol and help protect the interest and sovereignty of Seychelles.
Also speaking at the ceremony, Mr Darlong said the aircraft is an example of the warm and long standing relationship between India and Seychelles.
He added that it is a symbol of close cooperation between the two countries in security especially in the context of anti-piracy operations.
During President Michel's visit to India in 2010, the government of India committed to give to Seychelles a new Dornier aircraft.
The aircraft, under the command of group captain Vivek Kumar and Cdr Santha Kumar Prem, received the traditional water cannon blessing by the Airport Fire Services fire trucks.
To mark the occasion, Captain Kumar presented a memento, which is a replica of the aircraft to President Michel and Mr Darlong.
Blessings were also given by the chaplain of the Seychelles People's Defence Forces Deacon Louis Agathine before President Michel, Vice-President Faure and Mr Darlong went onboard the aircraft.
A special cake in the form of the Dornier 228 was cut by President Michel to mark the occasion.
The Seychelles Air Force came into existence in 1979, when the Seychelles People's Defence Forces were established.
It has in recent years been known as the Air Wing of the Seychelles Coast Guard (SCG), as it became part of anti-piracy patrols of the SCG. It then changed operational command, and is commanded by Major Michael Pouponneau.